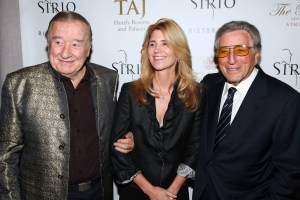 A restaurant opening in the chandeliered halls of The Pierre, flagship of Taj hotels, held much promise for some unrepentant gorging, but we were tragically left empty mouthed at Sirio's grand unveiling on Wednesday evening, with not a crumb going spare.
"We have a lot of dear friends, and a lot of people who love us," revealed handsome and ever-so-modest director of Le Cirque Mauro Maccioni, one quarter of the Italian-American epicurean dynasty.
Flanked by the new restaurant's namesake, his father Sirio, and restaurateur brothers Mario and Marco, the quad were undeniably the toast of the food-less feast, palpably excited about the newest extension of their empire. With the patriarch first working in The Pierre's La Foray some 50 years ago, there was much to celebrate, with celebrities and the nipped and tucked of New York popping in to offer their cheeks for much congratulatory air kissing.
Mayor Bloomberg generously graced the party with his presence for a fraction of a second before making a quick exit, apparently having to dash to the scene of a shooting in the Bronx. Fitting so many events into one evening can be such hard work. But at least his fleeting visit actually took place within the event's scheduled timeframe, which is more than can be said for tardy Martha Stewart. America's favorite foodie and home perfectionist eventually arrived to lend her support to Sirio, and reveal her excitement to The Observer about her upcoming Halloween celebrations.
"I'm looking forward to Bette Midler's annual Hulaween, of course, and am dressing up as an organic sea."
No, we're not too sure either. In fact, we're not even sure she remembered to invite us!
Ms. Stewart was full of praise for the Maccioni family's restaurant kingdom, particularly given some of her own culinary misadventures. "The worst food I've ever eaten was fried worms," she revealed, although this unpleasant dish was served up to her in Mexico, and not prison, as we first thought.
Leading the parade of air kissers out of the door was Ivana Trump, who was hanging languidly on the arm of her perma-tanned boy toy throughout the evening.
"I know Sirio many years," she drawled, having forced us into a secluded corner of the room to impart these words of wisdom.
The man of the hour, the elder Maccioni, clearly had quite the selection of groupies, although repeatedly forcing him out of his seat and into photos at times felt like a little bit too much. But the octogenarian remained reasonably upbeat throughout the evening, more so than we managed, although we might have fared better had we actually been given something to eat. Instead, we gobbled up all the people watching moments, which with the likes of Tony Bennett, Jean Shaffirof, Amy Fine Collins,  Somers Farkas, Sophie Theallet and Amy Sacco, left us pretty full anyhow.