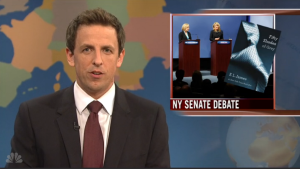 The New York Times issued its endorsements for congressional races around New York, and they all went to Democrats: Mark Murphy, Dan Maffei, Sean Patrick Maloney,  Louise Slaughter and Kathy Hochul. The Times even went Democratic in western Connecticut, where the moderate GOP candidate advertises himself as, "A tireless advocate for women's rights and a woman's right to choose."
The infamous "Fifty Shades of Grey" question in last week's U.S. Senate debate lives on. The most recent episode of Saturday Night Live featured Seth Meyer quipping, "During a debate Wednesday between New York Senator Kirsten Gillibrand and her opponent Wendy Long, moderators asked both women if they've read 'Fifty Shades of Grey.' Even worse, the followup question was, 'Heh, to each other?'"
There was discussion on the erotic book question on last Friday's Capital Tonight.
Former Governor George Pataki will continue his role as a surrogate for Republican Mitt Romney. According to a media advisory, Mr. Pataki "Will Attend and Provide Analysis" in Florida for the final presidential debate tonight.
House Majority PAC launched a new ad boosting Democratic Congresswoman Kathy Hochul, who's running in the most Republican district in the state, by slamming her opponent, Chris Collins, for being a rich guy. Their overall buy increased from $500,000 to $650,000.
Matt Doheny, the GOP candidate taking on Congressman Bill Owens in his North Country district, has a new ad out criticizing Mr. Owens for a particular trip to Taiwan.
The Staten Island Advance collected a healthy slew of bipartisan speculation about Mark Murphy's bid to take out Republican Rep. Michael Grimm. The publication found both sides surprised by Mr. Murphy inability to make the race more competitive, and presented various theories as to why.
On ABC7 yesterday morning, GOP congressional hopeful Dan Halloran gave his electoral pitch to host Diana Williams, who also inquired about his religious beliefs:
Ms. Williams: "One of the things I read about you is your religion, you are heathen, pagan, tell me about that?"

Mr. Halloran: "That's kind of derogatory. I'm a polytheist, I look at the divine in the natural world in a slightly different way, much like the Jeffersonian Deists did. They saw God send the world out and sort of take a hands off approach.  I think it sort of gels more with my way of looking at the universe."

Ms. Williams: "Is there a name for this?"

Mr. Halloran: "There's various names. I'm in a community called Theodism. Very similar to Hinduism, is the closest modern incarnation."

Ms. Williams: "So it's not one God?"

Mr. Halloran: "Well, there is ultimately God. But God can't be seen as that individual,  you see him in the plurality view. You see the emanations in nature, and that's sort of the approach I take. Ultimately yes, there's God. But that God is kind of far removed, as our founding fathers would have said, in the Deist camp."
Ms. Williams also interviewed Mr. Halloran's Democratic rival, Assemblywoman Grace Meng, but Mr. Halloran's segment was more fun: