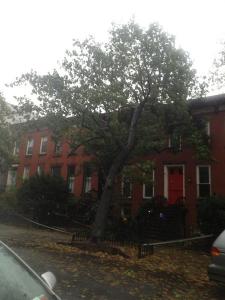 Demonstrating that Mother Nature goes about her work without fear or favor, several prominent New York political figures were among the thousands who had their homes damaged by Hurricane Sandy this week.
In the middle of an interview with the Queens Times Ledger, for example, Far Rockaway Councilman James Sanders exclaimed, "A tree has fallen on my wife's car." Asked whether he wished he had left his flooded neighborhood, which was in the mandatory evacuation Zone A, Mr. Sanders expressed only one regret.
"I expected this and worse," he said. "I regret not moving my wife's car."
Mr. Sanders and his wife were among the lucky ones on the southern coast of Queens and Brooklyn. His district was particularly hard-hit, suffering flooding and fire damage that left many homes in the area leveled and charred in a scene many have described as looking like a war zone.
Other political types were hit far worse. At the tip of the Rockaway peninsula, for example, a good portion of the Breezy Point section burned down, including the homes of Congressman Bob Turner and State Conservative Party Chairman Mike Long. Both made it out safe.
Another lawmaker suffering hurricane-related damage was Park Slope Councilman Brad Lander, who, like many elected officials, was out and about during the storm, surveying damage and assisting constituents where he was able.
"Starting to get reports of trees down in the area," Mr. Lander tweeted at one point, only to experience the reality for himself.
"Alas, this is our tree. Fallen on our house," he later announced, attaching a photo of the uprooted lumber leaning into his home. "Everyone ok. Will be off Twitter a while. Can't tweet own emergency."
About 45 minutes later, Mr. Lander returned and revived his steady stream of updates, noting the storm-related chaos in Atlantic City, which was largely flooded.
"Horrible. Puts tree on our house in perspective, big time," Mr. Lander wrote.
Mr. Lander and Mr. Sanders weren't alone in their tree troubles. Carlo Scissura, a former chief of staff to Borough President Marty Markowitz, who gave up his own campaign for borough president to head the Brooklyn Chamber of Commerce, told us he suffered a similar fate.
"So I'm sitting my living room last night, and I have this tree that I put in when I started law school, so 1992. So, that was my thing, we're putting the tree in, etc.," Mr. Scissura said when we spoke with him Tuesday. "I'm looking at it yesterday, and 8 o'clock last night, the first part of it went down … All that's left now is the tree trunk and a few branches."
Mr. Scissura described the damage to his Dyker Heights home as relatively extensive, although far less than that suffered by residents in low-lying areas.
"The gate is destroyed; the steps are pretty bad. It ripped the gate out of the outside of the house. So it's pretty bad," he said. "But you know what? No one got hurt, so we'll fix it."
We mentioned Mr. Lander's situation, which Mr. Scissura said he saw unfold over Twitter.
"Brad and I have been commiserating over our house trees," he jested. "I told Brad since his is just leaning, mine takes the cake so far."