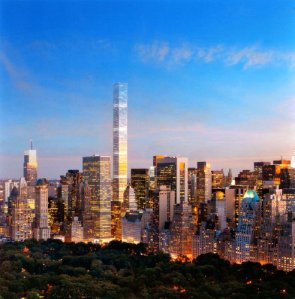 So we are obsessed with the changing skyline along 57th Street, so we are always excited and intrigued by new renderings that pop up for it. The latest may also be the greatest, and while 432 Park Avenue is nothing new, the pic that ran in The Times today gives the clearest indication yet of just how big this spindly behemoth will be. At 1,397 feet, the ritzy condo building surpasses 1 World Trade Center, less its spire, by 29 feet, boasting by some measures the biggest building in New York status.
It will also be the most expensive, as The Times, which got its hands on the condo's offering plan, reveals:
The apartments will be large, and very expensive, with an 8,255-square-foot six-bedroom penthouse on the 95th floor being listed for $82.55 million, according to the condominium's offering plan.

The Park Avenue tower's 147 residential units, which have already undergone two price increases totaling 3 percent, are being listed, when counted together, for $2.43 billion, a record for a residential development, appraisers say.
That penthouse will not beat out the prices at rival One57, where at least one unit has already surpassed $90 million, nor the previous record holder, 15 Central Park and its $88 million manse-in-the-sky. Will it have the same ability to attract the world's billionaires as those buildings, or are we running out?
Another important question: Who gets to cut the ribbon?
Will it be Harry B. Macklowe, the legendary developer who has survived a roller-coaster career of highs and lows? Or the CIM Group, the Los Angeles-based real estate investment company that acquired the land, on the site of the old Drake Hotel, after Mr. Macklowe defaulted on his loan in 2007?

Both are listed in the tower's offering plan. While some real estate executives in New York are embracing a familiar narrative for the famously risk-loving Mr. Macklowe for staging yet another comeback, just how involved he will be in the building's development—and eventual profits—remains a mystery to outsiders.
How could something so insistent and ostentatious contain so many mysteries? Perhaps it is all part of the plot. How better to draw attention away from your skyline-topping rivals?