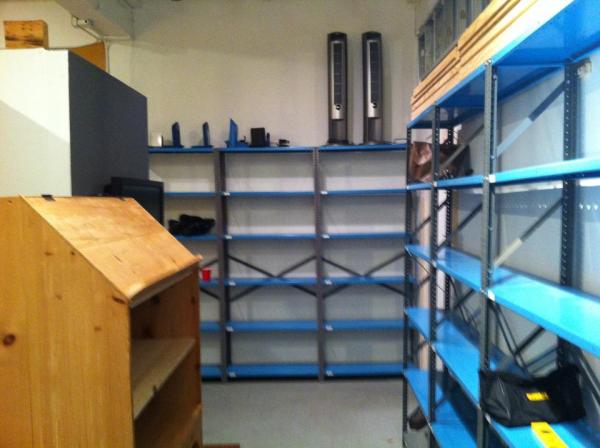 Earlier today, for the second time in a little more than a year, Andrew Beccone moved his entire library. The Reanimation Library—which consists of hundreds of "outdated and discarded" volumes "culled from thrift stores, stoop sales, and throw-away piles, and given new life as a resource for artists, writers, cultural archeologists, and other interested parties"–is part archive, part art installation. Beccone even opened a "Mid-Manhattan Branch" at MoMa earlier this year.
But the main branch is on the first floor of the Brooklyn art space Proteus Gowanus, yards from the Gowanus Canal. That's Zone A territory, which is why Beccone put out a call again yesterday on Facebook, just as he had for Hurricane Irene. "Another stupid hurricane is threatening my low-lying, toxic canal neighboring library," he wrote. "I'm looking for a handful of volunteers to help me box up books and move them to a higher floor."
Seven people showed up, Beccone told The Observer, and the job of clearing out all the blue shelves and moving the books up one floor took just over three hours.
Signing off after the move, he quipped: "Considering installing the library in a very big elevator."