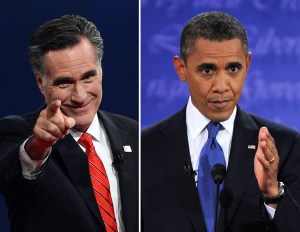 According to preliminary Nielsen numbers, about 39.97 million total viewers watched the first presidential debate on the broadcast networks last night. The debate was also carried by cable news outlets, but those numbers are not yet available. Once the cable audience is included, this should put last night's debate in contention to match or slightly beat the audience for the first presidential debate of 2008, which was watched by about 52.4 million total viewers including the cable channels. However, it will be hard for this debate to match the highest-rated matchup of the 2008 cycle–the vice presidential debate between Sarah Palin and Joe Biden, which was watched by 69.9 million people and ranks as the second most viewed debate ever. 
Out of the broadcast networks, CBS had the biggest audience for the debate with an audience of 10.176 million viewers, slightly edging ABC's 10.117 total viewers. On NBC, the debate was seen by 9.914 million total viewers and 6.977 million total viewers tuned in for the debate on Fox. The Spanish-language channel Univision had an audience of 2.79 million total viewers for the debate.
On all of the English language networks except Fox, the debate performed best among the older adults 50-and-over demographic. Fox's debate coverage scored highest with women aged 18 to 34. However, Fox's audience was probably the most atypical of the broadcast channels as Fox uses Fox News Channel hosts and many viewers who wished to see the FNC talent most likely tuned in on cable where Fox generally earn's the lion's share of the primetime audience.