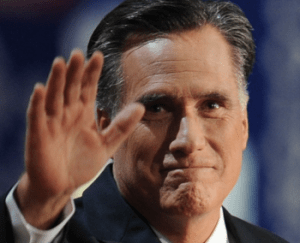 Mitt Romney is going to stop telling the story of a time he met Glen Doherty, one of the two former Navy SEALs who died during the attack on the U.S. Consulate in Libya last month while they were providing security at the facility, in stump speeches because of Doherty's mother's wishes. The Romney campaign told Politicker they will remove the story from the candidate's speeches after Barbara Doherty gave an interview expressing her wish that Mr. Romney stop mentioning her son on the campaign trail.
"Governor Romney was inspired by the memory of meeting Glen Doherty and shared his story and that memory, but we respect the wishes of Mrs. Doherty," Romney campaign spokeswoman Andrea Saul said. 
We reached out to the Romney campaign after he brought up meeting Doherty during a speech in Ohio this afternoon. Mr. Romney, who has criticized the Obama administration for its handling of the incident in Libya, has referenced  their meeting at a Christmas party several years ago in multiple other speeches. This morning, Boston's WHDH TV released the interview with Ms. Doherty in which she said she didn't want her son's death politicized by Mr. Romney.
"I don't trust Romney. He shouldn't make my son's death part of his political agenda. It's wrong to use these brave young men, who wanted freedom for all, to degrade Obama," Ms. Doherty said.
Though Ms. Doherty objected to her son being mentioned in the speeches, her daughter, Kate Quigley, who was Doherty's sister, gave an interview of her own in which she said she appreciated having her brother included in Mr. Romney's speeches as well as a ceremony President Barack Obama hosted for the victims of the attacks.
"It was nice what he said. Being an American hero is bipartisan," Ms. Quigley said of Mr. Romney's remarks. "I am happy for it, and I was honored by Obama's coming home ceremony."
(Updated at 2:26 p.m. to include Ms. Quigley's comments.)