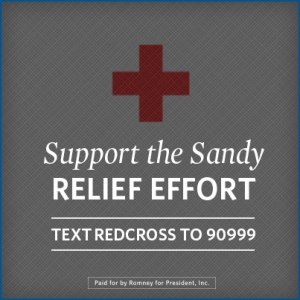 With Election Day only a week away, President Barack Obama and his Republican rival, Mitt Romney, can't afford to slow down much in terms of campaigning, but over the past 24 hours, their campaigns have both taken the time to ask for contributions to something that isn't their own war chests. For example, as Mr. Obama was boarding a plane to do some politicking in Orlando this evening, his campaign's deputy press secretary, Jen Psaki, made sure to note the president was also focused on the potential victims of Hurricane Sandy.
"We urge everyone to take appropriate safety precautions and to follow the guidance of emergency management and public safety officials, and we will continue to monitor the storm to ensure the safety of our supporters, volunteers and staff," she said, according to a recent pool report. "On Facebook, Twitter, and BarackObama.com, supporters are being invited to donate to the Red Cross to support the relief effort."
Indeed, on Mr. Obama's campaign website, there is a button in the lower-right that connects supporters to the Red Cross, and related messages were posted to his Facebook and Twitter pages. Also on Mr. Obama's Twitter account is one of those elusive tweets signed by the president himself, stating, "If you're on the Eastern seaboard, please make sure to follow the instructions of your state and local officials today. Stay safe. -bo."
For his part, Mr. Romney also recognized the storm and similarly directed his Twitter and Facebook followers to support the Red Cross.
In addition to its potentially serious winds and ocean surges, Sandy has had its inconveniences in the presidential race. Events along the Eastern Seaboard have been postponed for both campaigns, with the extra time usually allocated to the increasingly important State of Ohio.