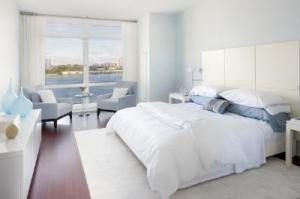 It seems like all we hear about these days is how popular and cool One57 is. There's hardly spotlight left for other superstar buildings like the Ritz Carlton and the Plaza, let alone Extell's former luxury darling The Aldyn. After all, the Aldyn might be a super luxurious and amenity laden, with an indoor basketball court, but it's not where the billionaires seem to be flocking to.
We're glad to see that some buyers, at least, are still looking at the attention-starved glass  condo/rental tower at 60 Riverside Boulevard. City records show that a mysterious buyer with limited imagination, 60 Riverside LLC has paid $13.7 million for  unit 1601, a six-bedroom duplex.
Who knows, maybe that anonymity points to a billionaire, or better yet, a celebrity. From A-Rod to Bruce Willis to Robin Williams, Riverside South has attracted plenty of them.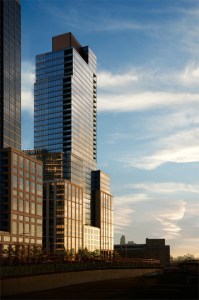 The sponsor unit sets a sales record for the building, although the developers were angling for $14.9 million when they listed the unit this July. It's the same price they were asking when the unit made its market debut in June 2011, only to have its listing yanked at the end of that month. Another unit on the 21st floor is currently asking $15.9 million, but it has yet to sell.
The apartment, listed with the Corcoran Sunshine Marketing group, clocks in at just over 6,700-square feet. Which is, we hear, around the same size as the $95 million listing at 15 Central Park West and the $95 million listing at the Ritz Carlton—talk about a steal, with better river views, no less. And certainly, these buyers will get a lot of bang for their buck with six bedrooms, 8.5 baths (the master is teak wrapped and features a Zuma deep soaking tub), terraces and double height ceilings.
Besides, Aldyn buyers might not be able to stroll out the door and into Central Park, but why would they need to? They can just head downstairs to the pool, squash court, rock climbing wall, yoga studio or bowling alley. Not to mention Pier 72 and the rest of Hudson River Park just down the hill.
kvelsey@observer.com