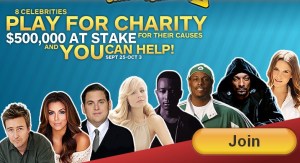 And in a shocking upset, Edward Norton beat out Kristen Bell, Sophia Bush, Jonah Hill and Eva Longoria in Zynga's first-ever celebrity competition of Words with Friends, a game that we had all previously assumed Alec Baldwin was the hands-down champion of. As it turned out, Mr. Baldwin didn't even enter the ring, basically throwing the fight to the Fight Club actor, who won $132,500 for his charity, Maasai Wilderness Conservation Trust.
Mr. Norton did give a shout-out to the WWF master in his acceptance speech:

I'm happy to have won because it will have a huge impact for the work on Maasai Wilderness, which is an effort I'm very involved with and passionate about. This was a lot easier and more fun than asking friends to write checks to support our effort, so I'm grateful to Zynga for their generosity and for turning games into real impact and positive contribution. Next year I want Alec Baldwin in the roster. I want to beat the best. Anybody who would get thrown off a flight for refusing to stop playing WWF is somebody I need to play.
Of course, no man is an island, and Mr. Norton and the other contestants were helped out by players at home, among whom a winner will be announced today. Here are the final standings:
1. First Place – $132,500

Edward Norton, Maasai Wilderness Conservation Trust

2. Second Place – $57,500

Sophia Bush, Maasai Wilderness Conservation Trust

3. Third Place – $20,000

Kristen Bell, Harlem Grown

4. Fourth Place – $20,000

Eva Longoria, The Eva Longoria Foundation

5. Fifth Place – $5,000

John Legend, The Show Me Campaign

6. Sixth Place – $5,000

Snoop Lion, The Snoop Youth Football League

7. Seventh Place – $5,000

Jonah Hill, Harlem Grown

8. Eighth Place – $5,000

Paul Pierce, Truth On Health – The Truth Fund
We kind of love that there are two people below Snoop Dogg on this list. Either he must have phoned a friend, or Jonah Hill is illiterate.