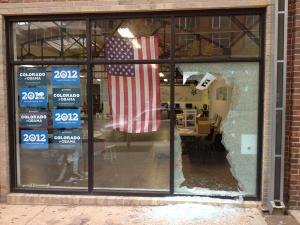 As the march toward November 6th intensifies, things might get weird. For example: someone apparently fired a shot into President Barack Obama's campaign headquarters in Denver Colorado on Friday afternoon, shattering a large window.
The Denver Post reports the incident occurred around 3 p.m. There were people in the offices at the time but no injuries were reported.
A reporter for Denver's alt-weekly Westword tweeted a photo of the shattered window and his puzzled comment:
I have zero details about what happened here but Obama 9th and Acoma campaign headquarters window badly smashed twitter.com/SamTLevin/stat…

— Sam Levin (@SamTLevin) October 12, 2012
Denver police spokesperson Raquel Lopez told local media that police were searching for a "vehicle of interest" and reviewing any available video surveillance of the scene.
The Obama-Biden campaign has yet to comment on the incident.