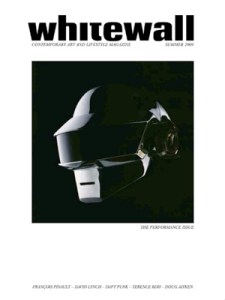 Amani Olu, the former Nadine Johnson flack who recently left to focus on his plans for a gallery, has landed at Whitewall magazine, where he will serve as managing editor. The job will have him revamping the magazine's website, which, like the book, focuses on contemporary art and fashion.
"I want to make it more diverse," said Mr. Olu, who called the new gig a "dream job," "finding ways to explore what makes us different from other websites. It's not just design for the sake of design, but what is the relationship between design apparel, the luxury lifestyle and what's happening in contemporary art." For Mr. Olu this means more content (slide shows!) and more contributors. He's got his work cut out for him, but he still intends to curate on the side.
Mr. Olu has written for the website since 2009. He will work under Whitewall's editor in chief, Katy Donoghue, who said in a release: "His years of experience and understanding of the contemporary art world and lifestyle industry make him the perfect fit for the role of managing editor. I am confident he will be an invaluable addition to Whitewall and will help us to create and realize a new mission and future for Whitewallmag.com."
Whitewallmag.com will see a major redesign this November ahead of Art Basel Miami Beach, a beta version of a proper design to launch during Armory Week.