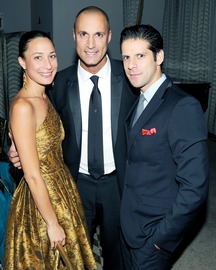 A night at the ballet demands high drama, and American Ballet Theater's Opening Fall Gala didn't disappoint. A dancer took a tumble in the wings, guests belched mid-speeches and hungry ballerinas devoured meals with their fingers—not quite the refined affair we bastions of etiquette at The Observer had in mind. In between the guzzling and gassiness, however, ABT put on a superb show, with four separate performances offering a glimpse into what it has in store this fall.
An endless array of ball gowns swished through the auditorium as the performance was due to begin, and the amount of hair coiffing on display was enough to cause environmental concern. Ralph Lauren model Robyn Lawley bucked the trend of bouffant 'dos, choosing to add some atop-the-head inches in a funereal feathered headpiece. How very Black Swan. 
Indeed, there was but one bald head to be seen in the theater's busy foyer, belonging to a certain Mr. Nigel Barker, the "noted fashion photographer" who is presumably less noteworthy since his axing from America's Next Top Model. Feigning ignorance, the dapper Brit quipped: "ANTM? What's that?" before insisting, "All I've heard about the new series is my Twitter followers asking why I'm no longer on the panel." Perhaps his humility got lost in the mail with Tyra's last Christmas card.
The Barkers were celebrating their 13th wedding anniversary at the event, but they weren't the only ones marking a special occasion. ABT was marking 70 years to the day—"almost to the hour," noted Artistic Director Kevin McKenzie, from when Wild West ballet Rodeo debuted. In a departure from the usual tutu-and-pumps combo, dancers were decked out in check shirts and cowboy boots, with square dancing and tap thrown in for good measure. Certain balletomanes in attendance, including diminutive designer Christian Siriano, admitted to being dubious about the ballet getting a saloon-style makeover, but were "pleasantly surprised" by the end result.
Along with honoree Freddy Franklin, who danced in the original production of Rodeo in 1942, the performers were the real toast of the evening. One excitable guest, who seemed to have dressed as a matador for the occasion, couldn't get enough of the male dancers' "scrumptious thighs like oak trees," and labeled the show as "Americana at its best." High praise indeed, albeit not from the most discerning source.
And laughing off colleague Daniil Simkin's mid-turn tumble during his performance of Stars and Stripes was ballerina Isabella Boylston. "Dancers fall all the time—I once fell on my ass in a tutu at The Kennedy Center—it was so dramatic!" Here's hoping that the dancers can stay en pointe, rather than on the floor, for the rest of the season.