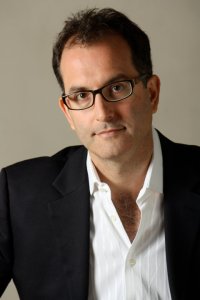 Following last week's Twitter brouhaha, Andrew Goldman will not be writing for the Times Magazine for the next month.
"In light of his recent comments on Twitter, Andrew will not be contributing the Talk column to the Magazine for four weeks, beginning Oct. 28. He'll be back with the column after that,‪‪" said Hugo Lindgren, editor of The New York Times Magazine through a spokesperson.
Mr. Goldman was criticized by, among other people, Times public editor Margaret Sullivan after he got into a highly publicized Twitter feud in response to novelist Jennifer Weiner taking issue with his "Talk" feature in the Sunday magazine where he asked Tippi Hedren,  the star of The Birds if she had ever been tempted to sleep with directors.
Mr. Lindgren has reversed his position from last week.
"I made it clear to him that kind of behavior he exhibited in this Twitter exchange would not be tolerated, and he was contrite and accepted that without argument," Mr. Lindgren said then, in answer to Ms. Sullivan's question about the freelancer's standing at the magazine. "My feeling is that he had an unfortunate outburst, and that he will learn from it. He works very hard on these interviews and does a good job. Readers are entitled to whatever opinions they have of his work, and he needs to be comfortable with that and engage thoughtfully when appropriate, or not at all."