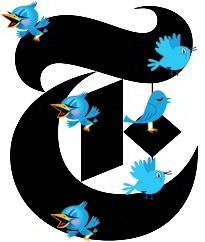 Last week, newly appointed public editor Margaret Sullivan wrote about what she now calls "the insulting and profane Twitter messages" that Times freelancer Andrew Goldman tweeted at author Jennifer Weiner. Ms. Sullivan ended the post by calling for a clear social media policy at the paper of record.
Looks like they are now clearing it up. It is actually fairly simple: don't be a jerk to readers.
"Be thoughtful. Take care that nothing you say online will undercut your credibility as a journalist. Newsroom staff members should avoid editorializing or promoting political views. And we should be civil – even to critics – and avoid personal attacks and offensive remarks," Philip B. Corbett, the associate managing editor for standards, said in a memo. The memo was included in Ms. Sullivan's post today.
"When in doubt, ask yourself if a given action might damage The Times's reputation. If so, it's probably a bad idea," Mr. Corbett continued.
And just how does this policy apply to freelancers?
"It would be crazy to try to control freelancers' behavior night and day," Mr. Corbett told Ms. Sullivan. But, as the Times standard bearers pointed out readers often don't know the difference between staff writers and freelancers. "So we want them to have the same standards," Mr. Corebett said.
But the policy isn't new. We heard something similar last week when we reached out to find out if the newspaper was going to change their social media policy.
"We expect New York Times journalists to act like New York Times journalists," Times spokesperson Eileen Murphy said.
"It has been communicated to Andrew Goldman that his comments on Twitter were not appropriate and not in keeping with The Times's long-standing principle that we expect our journalists to behave as thoughtfully on social media as they do in other aspects of their jobs,"added Ms. Murphy, in an email last week.
But ultimately, it is all up to the Times, Ms. Sullivan points out.
"And unstated is the simple truth that The Times has the upper hand here. It decides, often on a case-by-case basis, which freelancers to assign. Assessing their judgment on social media is very likely to be a part of that decision-making."
"Particularly in the wake of Mr. Goldman's display of poor judgment, it's good to see the guidelines reinforced," the public editor writes.