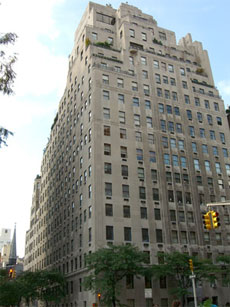 It's easy to see who's winning the popularity contest in New York real estate circles these days. Co-ops, like many a high school queen bee, are granted grudging respect: good looking, better grades, they hang out with all the best people and wield an awesome amount of social power. But condos, well, condos seem to have it all: they're beautiful, friends with all the cool foreign kids and they're so nice while still playing the edgy bad boy.
Over the past year or so, belligerently wealthy out-of-towners have been snapping up New York condos like so many Jimmy Choos and boarding school seats. The Russians have invaded and we couldn't be happier, and the rest of the world is eager to follow. Glassy condo towers are—after their brief recessionary hiatus—rising again. Indeed, the biggest residential deals of the year went down neither at co-ops nor mansions but at 15 Central Park West and newfound rivals One57 and the Ritz Carlton. Amazingly the Ritz may look like an old co-op but it is actually a 2002 condo conversion of the old St. Moritz hotel. Back then, units sold for a fraction of what they are now getting, and certainly less than its co-op rivals on Park and Fifth avenues.
The same, alas, cannot be said of co-ops. Marvelous as those bastions of old money are, they are also notorious for their rigid policies and grueling board interviews, where one's future neighbors—if one is so lucky—pour over financial documents and probe into personal lives. Look no further than the case of godly 740 Park. While the famed building notched a co-op record this year with the $52 million sale of Courtney Sale Ross' immense spread, that is half the price of some of the record deals now taking place. Meanwhile Goldman guy Jonathan Sobel sold a penthouse at the Verona (a very nice one, but still, ever heard of the place?) for more than he paid for a new duplex at 740 Park. He got a 45 percent discount, to boot, from what the home was first asking four years ago.
Oh, how the mighty have fallen. But might they rise again by becoming condos?
"It has been done and it is possible," said attorney Jeffrey Reich, whose firm Wolf Haldenstein Adler Freeman & Herz is counsel to co-op and condo boards around the city. However, when asked if the surging condo market had inspired a rush of interest in such conversions, the answer was a firm no.
It is possible, yes, but it is not easy—financial complications, considerable costs and terrifying taxes all stand in the way—and honestly, any board member who has battled for months, even years, over some silly bit of building minutiae knows they shouldn't even fantasize about this kind of thing.
"Frankly most co-ops don't want to convert," Mr. Reichel said. "There was a lot of interest in conversions 10 years ago, but during the downturn people really grew to appreciate co-ops."
Basically, Mr. Reich said, the co-op would first of all need to pay off its underlying mortgage and individual owners would need to trade in their share loans for mortgages. The conversion could not be completed, in other words, while the building held any debt, a situation that precludes a large number of condo conversions unless shareholders are willing to pony up the cash to pay off the building's mortgage and make the switch happen.
Moreover, the IRS views such conversions as a taxable event, meaning that essentially, property owners would be seen as having sold their co-ops for market value and purchased new condo units, a huge tax liability, especially for owners who purchased their units a long time ago and have seen their values shoot up. A $250,000 co-op purchased in the 1970s could easily be worth $5 million now. Which is fabulous if an owner decides to sell, but less fabulous if the owner stays put and must, essentially, pay for the income earned on trading in his or her shares. And since stratospheric prices tend to exist only on the highest end, the odds of a payoff seem slim. Plus, additional tax complications abound for the building and commercial units not under certain tax loopholes protecting primary residences.
There are some tax protections that apply to principal residences—owners can exclude the first $250,000 of gains and married couples $500,000—but let's be honest, that's not worth a whole lot in today's market.
To add to the headache, the co-op might even need an architect to prepare a new set of plans for the building and certify them "as built."
Freedom, as the old saw goes, comes at a cost.
"I've heard buildings talk about it, especially as condo sales have outpaced co-op sales in several neighborhoods," said Gil Neary, founder of DG Neary Realty. "But really, you're changing a lot of money to change your identity and really what you could do without too much trouble is just to change the rules, which is what most people object to."
Nor are conversions entirely agreeable to the set that lives in co-ops in the first place. Many New Yorkers who chose to call co-ops home actually like the advantages of the cooperative lifestyle—sharing a building and its many inevitable headaches with a carefully vetted pool of like-minded people. It adds financial security, the thinking goes, because residents get to interrogate their neighbors. Many housing experts point to this as a big part of the reason the city's housing market has been less buffeted by the housing bubble. It may be a historical quirk that the city is filled with co-ops (they still outnumber condos 3 to 1) but some people do like them. And a co-op can always rewrite its bylaws, transforming into that glorious beast, the cond-op, built like a co-op but with condo rules, should cooperators want to stop looking down their noses at any would-be residents.
There is also the vote. In order to convert, a supermajority of shareholders must vote in favor of the change—bylaws often set that number between 66 and 80 percent. Not only would that many New Yorkers never agree on anything, but imagine the nasty stares in the halls from the small minority who didn't want the conversion. For anyone who has attended board meetings where picking lamps for the lobby is an impossibility, the difficulty of convincing residents should be apparent.
Still, while one shouldn't expect to see 740 Park or 820 Fifth abandoning their shareholder system anytime soon—Howard Marks might have kept his stunning apartment at the Ritz Carlton, but he traded the place for a spread in the oldline co-op just like Mr. Sobel—there are a few New York buildings that have successfully made the transition. A co-op in Bensonhurst, Brooklyn, and another in Rego Park, Queens, have switched and are, reportedly, happy with the results. They were tired of paying the massive maintenance that seemed to be distressing possible buyers.
Others seem reluctant to jump on board—make that off board. In the end, the easiest solution for condo lovers in co-ops is simply to sell and buy a condo. The condo board won't judge.
kvelsey@observer.com