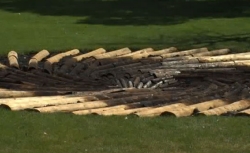 Over at Slate, there's a great story initially reported by Wyoming Public Radio about what happens when a British landscape artist (Chris Drury) makes an artwork critiquing coal in Dick Cheney's home state.
Long story short: it didn't go so well! From the piece about the work, Carbon Sink, formerly of the University of Wyoming campus in Laramie:
In April, university president Tom Buchanan wrote to the director of the art museum: "Given the controversy that it has generated, it would be best for UW if the fire pit (I've forgotten the name of the work) could be considered part of the [removal of other campus artworks] during the summer of 2012." It was, and today, no trace of it remains.
Perhaps they were hoping for something a bit more pro-coal from the landscape artist.