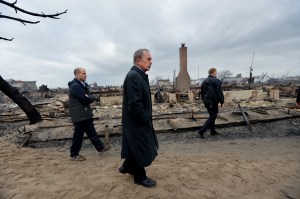 At another press briefing at the city's Office of Emergency Management in Brooklyn this evening, Mayor Michael Bloomberg announced the news that at least 18 New Yorkers have been killed by Hurricane Sandy's bombardment last night, a number that could still rise. The total increased from this morning, when Mr. Bloomberg confirmed 10 deaths.
"Unfortunately, altogether so far in the storm, all the places put together, we've had 18 fatalities citywide as a result of this storm," he said.
Despite the extensive damage in the Breezy Point neighborhood of Queens, however, Mr. Bloomberg said no deaths emerged from the devastating combination of fire and floods.
"On the Rockaway Peninsula, I walked through the part of Breezy Point that was absolutely devastated by the wind-fed fast-moving fires that took out more than 80 homes last night. To describe it as 'looking like pictures we've seen at the end of World War II' is not overstating it. The area was completely leveled," he said. "It's very sad they lost their homes, but the good news is there were no fatalities, thank God."