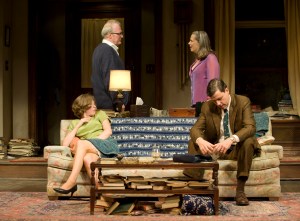 AFTER ALL THESE YEARS, George and Martha are still going at it. And the good news is that they haven't aged a bit.
Who's Afraid of Virginia Woolf, Edward Albee's seminal and searing portrait of a viciously feuding, functionally alcoholic, codependently miserable and mildly delusional married couple, opened Saturday night at the Booth Theatre, 50 years to the day after its Broadway debut. It was last seen in New York only seven years ago, starring Bill Irwin and Kathleen Turner, but the new production, which originated at Chicago's Steppenwolf Theatre Company, is a welcome return. Staged with explosive tension by director Pam McKinnon, this Virginia Woolf offers not just marvelous performances and new insights into an old play, but also—and remarkably for a work completed in 1962 that has a running time over three hours—some of the freshest and most thrilling stuff on Broadway.
George (Tracy Letts) is a moderately successful academic at a small New England college, a man, as his wife, Martha (Amy Morton), constantly reminds him, who is in the history department but does not run the history department. Martha is the college president's daughter, and she has always expected a more exalted consort, someone suitable to one day take her father's place. The couple has long ago settled into a routine: gin and gibes, cocktails and psychological abuse. They're quite amusing, and entirely horrifying.
As the play begins, they're arriving home from a Saturday-night faculty party, already soused but just getting warmed up. Martha has invited over a new biology professor named Nick (Madison Dirks), not coincidentally a young and hunky former quarterback and boxer, whom her father has asked her to help welcome to campus, and his mousy, milquetoast wife, Honey (Carrie Coon). Over the course of a long night, George and Martha battle and flirt with each other, and with their guests, using those guests as both cudgels and an audience. They are ultimately revealed to be even more disturbed—and more devoted—than we expect.
Who's Afraid of Virginia Woolf is best known for its stylish 1966 film version, directed by Mike Nichols and starring Richard Burton and Elizabeth Taylor. Ms. MacKinnon's staging removes any of the vestigial glamour that clung to that famously feuding pair (or, for that matter, to Ms. Turner, an erstwhile femme fatale). From the moment the lights go up—on a gracious but run-down living room, with outlines on the walls where pictures once hung and books everywhere, stacked under the coffee table and in the fireplace—it is clear that these are worn-out people living a worn-out life. Mr. Letts's George stalks the stage in an oversized cardigan; Ms. Morton's Martha wears her salt-and-pepper hair down and her face barely made up. (The set design is by Todd Rosenthal and the costumes are by Nan Cibula-Jerkins.) These aren't bon vivants jousting for urbane entertainment; these are defeated people whose mishegoss is now their reason to keep going.
Mr. Letts, the actor and playwright who won the Pulitzer for his August: Osage County and here makes his memorable Broadway debut, invests George with a backbone that makes him Martha's sparring partner, not just her target—a punching bag with fury inside. Ms. Morton is a snarling, seductive, scabrous Martha, sly, manipulative, and surprisingly vulnerable. And the gamest player in the bunch may well be Ms. Coon, silly and un-self conscious as Honey, drunk, dancing and recurrently sick. In a very funny play, she's the pratfalling comic relief.
In truth, they're all recurrently sick—the rest emotionally rather than gastrointestinally. And thank God, or Mr. Albee, for it. May George and Martha feud for another 50 years.
IF SOME PLAYS HOLD UP magnificently over time, others can seem to collapse. Based on what's playing at the American Airlines Theatre, the question is almost less why Cyrano de Bergerac is still being performed after 100-odd years but more whether it was any good in the first place.
It must have been, right? Why else would it have such a long life? (And how else could it have inspired Steve Martin's 1987 masterpiece, Roxanne?) But the Roundabout Theatre Company production that opened last week, despite yeoman's work from its leading players, is an interminable (nearly three hours), incoherent (literally, as in it's difficult to understand what the actors are saying) snooze.
Cyrano is the tale of a French nobleman endowed with an enormous wit and an even larger nose. Too proboscisally prominent to even consider wooing his beloved cousin Roxanne, he instead supplies the words for a handsome but dim young soldier, Christian, to successfully court her. The soldier dies in battle; Roxanne, heartbroken, retreats to a convent, Cyrano visits her religiously, and only on his death does she realize he was the man she'd really loved all along.
This is a sweet, simple, sad story that is unfortunately encumbered by never-ending subplots and digressions. It is remarkable that it is a full hour into the play before it ever occurs to anyone that Cyrano could ghostwrite for Christian. It is remarkable that the new translation, by Ranjit Bolt, purports to be in verse but is instead a collection of frequently rhyming, unmetered lines. It is remarkable that director Jamie Lloyd has staged a production so difficult to understand. (On the other hand, think how long this would run if the actors spoke slowly enough to be deciphered!) And it is remarkable that the handsome young swain Christian is played by Kyle Soller, who has a hell of a jawline in his Playbill headshot but on stage is just, well, pleasant-looking.
Credit where it's due: Douglas Hodge is hammily endearing and touchingly insecure as the blustering, self-pitying Cyrano. Patrick Page, safely freed from his Green Goblin flying apparatus, is droll and dulcet as the evil Comte de Guiche, plotting to take Roxanne for himself. And Clémence Poésy makes a lovely, winsome Roxanne. They're fun to watch.
But mostly they made me wish I was at home with Netflix and Steve Martin.