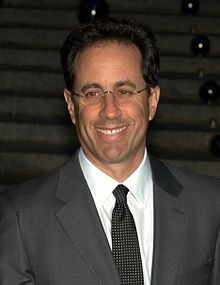 — Oh yeah, Chris Brown and Rihanna are definitely back together. He even dumped his girlfriend the night before going to a Jay-Z concert with his ex. At this point, we just hope for the best for these two, or at least that there's a good laser tattoo removal place nearby.
— That letter in The New York Times was no coincidence: Jerry Seinfeld is touring in New York again. (For a better letter to the paper, read his 1999 defense of the Upper West Side.)
— Liam Neeson pulled a Richard Belzer on ESPN yesterday. Can you blame him? He just wants his daughter/wife back!
[protected-iframe id="92ab130b1a6007c57a0607e637728936-35584880-35147716″ info="http://cdnapi.kaltura.com/index.php/kwidget/wid/0_hwmnz2hm/uiconf_id/6740162/st_cache/4076?referer=http://www.tmz.com/videos/0_f31e8hzo&" width="640″ height="360″]
— In a really weird/exploitative/not-very-smart publicity bid, the Kids Wish Network has started posting to Reddit all these photos of sick children getting their big wish … to visit the set of NCIS, Extreme Home Makeover and Charmed. Also, all the blog posts are at least a year old, (the Linkin Park one is from almost a decade ago) but are being put on Reddit by the official account now.
— The legend of Creed front man Scott Stapp just keeps getting better and better. Not only did he announce on Fox & Friends (to the caring of everyone, we're sure) that he just can't vote for Obama in good conscience, but yesterday he told VH1 that T.I. saved his life after he jumped 40 feet in a hotel suicide attempt.
[protected-iframe id="25bc29853408a699d731c0b7b9cd871a-35584880-35147716″ info="http://media.mtvnservices.com/embed/mgid:uma:video:mtv.com:842205/cp~id%3D1694874%26vid%3D842205%26uri%3Dmgid%3Auma%3Avideo%3Amtv.com%3A842205″ width="512″ height="288″ frameborder="0″]
Get More:
(Was the rapper just hanging outside the lobby of the Del Monico, waiting for drug-crazed rock dudes to fall out of the penthouse? How does one "take care of the situation" when it involves a 40-foot drop and a fractured skull? Was this before or after T.I. went to jail on all those gun charges? SO MANY QUESTIONS!) Also: Steven Tyler begged him to write a book? Next thing you know, Stapp will be telling the other kids in class he's a cutter just to get attention.