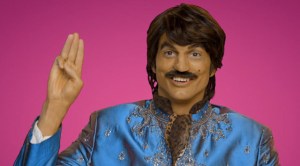 – Ashton Kutcher made $24 million last year. Sure, it's not entirely from Two and a Half Men. (After all, he only gets $700,000 per episode). The rest is savvy tech investments, but still. That like seven Lena Dunham books!
– Remember how ex-Housewife Jill Zarin was like "I didn't even want to be on that toxic program," and we were like, "Sure, Jill." Well, it turns out Bravo maybe wants her back and she's gonna make them sweat. (For approximately three seconds before accepting, obviously.)
– Lena Dunham went on Twitter to apologize about a string of tweets she exchanged with B.J. Novak and Mindy Kaling about which (alleged) serial killers they should go as for Halloween. Memphis killers were fine, but Ms. Dunham's suggestion was Paul Bernardo and Karla Homolka. "I'll be the sister they murdered," she wrote. Now she is sorry she wrote that, but Mindy and B.J. are not sorry for what they wrote, because they do not have to spend all their time apologizing to angry mobs the way the Girls star does.
– Annie Leibovitz dressed Stephen Colbert up like Eugène Delacroix for Vanity Fair. Here's an adorable little film they made behind the scenes, where literally the only interaction they could use was Ms. Leibovitz introducing herself to the anchorman and then saying "Nice to meet you" afterward.