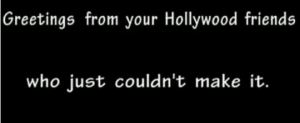 – How's this for a wedding present: Justin Timberlake's buddy, real estate agent Justin Huchel, filmed a bunch of homeless people wishing the best for the actor/singer and his new bride, Jessica Biel. See, it's funny because what could the homeless possibly offer Hollywood royalty except wishes? Not everyone thinks this joke is in good taste, but then they probably haven't seen Biel's wedding dress. (Video after the jump.)

http://youtu.be/DMHcGFmhB_s
– Taylor Swift and Conor Kennedy broke up. It's probably for the best, though we hope it doesn't end up with her writing a song called "Camelot."
– If we were sending out good vibes to a celebrity right now, it would be Diddy, who was in a serious car crash yesterday in L.A. No one was hospitalized, but seriously … this is why we all take the subway.
– Last night was GQ's Gentleman's Ball. Starring Adam Levine, Ted Danson and Willie Geist, the three biggest gentlemen in the biz.