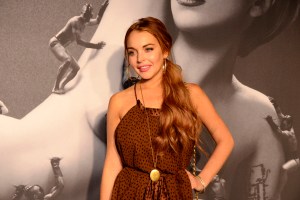 – This weekend's big story was Lindsay Lohan's stalker (or just a guy she was partying with at Double Seven), who allegedly followed her up to her hotel room at the W after they got into a fight about cell phone photos. She escaped him, but then came back to the room so he could physically assault her; it's hard to pick the most batshit part of this whole ordeal. It's a toss-up between the part where the guy was a congressional staffer who has posed for photos with Paul Ryan, and the part where someone let Lindsay Lohan run around a hotel unsupervised.
– Justin Bieber puke-sang his way through a recent concert, and then followed it up with an Anchorman tweet about how "Milk was a bad choice."

– Classy lady Anne Hathaway married a nice Jewish boy. And that's all there is to say about that, because after that Raffaello Follieri creep, she deserves a nice, quiet life. If not with Bruce Wayne, then this guy.
– Did you guys know Kyle Maclachlan has a wine company, and it's called Pursued by Bear? Fine, maybe you knew that. But did you know he has been having tastings in Williamsburg?
– Spotted: The Master's Paul Dano in a sparkly karate suit, playing basketball with a giant pea pod, a ninja turtle, a goth guy and a lady in a tutu yesterday afternoon in Carroll Gardens. It wasn't for a movie or anything, and it was a little too early for Halloween. But sometimes you just gotta be zany and shake off those milkshake blues, you know?