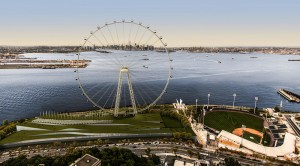 Mr. Marin knows a thing or two about world heritage. He grew up in Latin America, traveling around with his mother, who did development work for the United Nations. He did not know his father much growing up, a man his mother met in Venezuela who left when little Rich was eight to became a real estate developer in California. Mr. Marin said not to read into his father's profession and his own. "I know it makes for a good soundbite, but that has nothing to do with what I'm doing," he said of his more recent forays into development. When Mr. Marin was a teenager, the family moved from Maine to Rome, where he fell in love with movies as well as motorcycles.
Mr. Marin later wound up at Cornell, his mother's alma mater (as well as that of Mr. Marin's three kids). He spent a year studying engineering—all those years spent fixing up cheap Ducatis and Lambrettas in Italy were among his inspirations—before switching over to economics and government, which he deemed "less antithetical" to the countercultural times of the early 1970s. After undergrad, Mr. Marin finished his MBA in a year, a rare feat. He left Ithaca at 22 for the job at Bankers Trust.
The year was 1975, and Wall Street was about to transform itself from a sleepy but prestigious workaday industry into the fabulous global wealth engine it has come to resemble today. Junk bonds, LBOS, million-dollar bonuses—all of that was still on the horizon, along with the canonical works that would come to define Wall Street for Main Street: Barbarians at the Gate, Liar's Poker, a movie or two by Oliver Stone.
To some, Rich Marin might resemble one of Mr. Stone's villains. After all, he helped create the derivatives that laid the foundation for the alphabet soup of financial instruments that many critics argue have corrupted finance. Mr. Marin does not see it this way. "I liked the creative aspect going through the industry at the time," he said. "And these products, they have to be used responsibly."
In 1981, Mr. Marin moved from the corporate finance division, where he'd spent a very successful if unexciting few years, to commodities. There, he got his first taste of the futures business—the buying and selling of contracts on the predicted outcomes of various markets. Futures are typically used as a hedge against losses, bought in a short position. Mr. Marin identified demand for more long-term insurance—inflation was a serious concern at the time. He took a strip of Euro-dollar futures contracts across a range of prices, bundled together about $10 million worth to create his very first derivative and then encouraged the sales team to offer it up. Mr. Marin said he did not expect to hear back, but within the hour, the sales guys had returned, wondering how many more of these deals he could put together. He quickly created a $100 million swap and sold that, too.
Mr. Marin spent a few more years coming up with new financial products until he was called to help out in Latin America in 1985. The firm had $4 billion being sucked into the vacuum of the region's debt crisis. "When I told my mother that, she was horrified," Mr. Marin said. "She said, 'I spent my career putting money into these countries and now you are going to spend yours taking it out of them?'"
In 1989, Mr. Marin was put back in charge of derivatives, now a fully formed global operation, as well as the newly created emerging markets desk that had grown out of the Latin American crisis (mom was right, this was good business). The following year, his career almost ended, and not for the last time. The commodities desk had issued futures contracts on more than $100 million in cotton from a company run by a Tennessee wildcat named Julien Hohenberg. The cotton had never been picked, never even really existed. To pull off the scheme, Mr. Hohenberg had partnered with a bonded warehouse to vouch for the phantom fibers. The fraud was eventually uncovered, but not before costing Bankers Trust 45 percent of 1989's fourth-quarter profits. "I loved Julian's quote in Forbes," Mr. Marin recalled, his voice growing gruffer. "I can recall it verbatim. 'I treated Bankers Trust like I treated my wives. I told them what they wanted to hear and then I did what I wanted to do.'"
That is not how Rich Marin sees himself. He prepared his resignation within days of the bad deal being exposed. It wasn't accepted. Instead, he was sent to run the Canadian business out of the Toronto office—American Banker referred to the posting as "Siberia"—but he returned to New York after only two years to take over the retirement services division, the bedrock of Bankers Trust's business, where he oversaw some 4,000 employees handling pension funds, 401(k)s and the like.
Michael Walsh, a managing director at Deutsche Bank whom Mr. Marin hired from Chemical Bank in London to head up the Latin American desk in 1985, said his old boss had more courage and acumen than anyone else he had met in the business. "Most people would run from the situations he has found himself in," Mr. Walsh said, a Welsh accent still poking through after two decades in the states. "Rich stuck with you, he stuck with the company, and sometimes he paid the price, but just as often he was rewarded for his loyalty."
When the firm merged with Alex Brown in 1997, he ran the combined private banking operation, his first foray into asset management. When Bankers Trust was bought by Deutsche Bank, Mr. Marin was kept on to ease the integration. His reputation recovered, he decided instead to strike out for new territory, golden parachute in hand.
"I've never seen a guy like Rich land on his feet so many times," one former Bankers Trust executive said. Indeed, this was only the beginning.