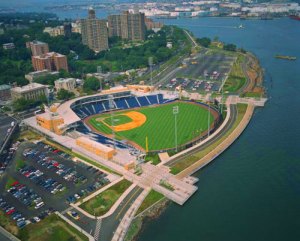 It was a new millennium, so Mr. Marin and a few colleagues decided to start Beehive Ventures, a venture capital firm—everybody with a bronze nameplate was doing it, as Mr. Marin jokes. It was nearly another loss for Mr. Marin when the tech bubble blew, but after more than a decade of churning, Beehive anticipates a 6-10-fold return thanks to a good bet on eMarketer.
In the meantime, he got the call to run Bear Stearns Asset Management, the bare-knuckled firm's mutual and hedge fund business. "We wanted him there," said Alan Schwartz, the executive chairman of Guggenheim Partners, who at the time was co-president and COO of Bear Stearns. "He had a lot of knowledge of the industry and he was very creative."
Creative indeed. During the first meeting of the executive committee that Mr. Marin attended, as an ice breaker he asked the 20 or so other power brokers in the room if anyone had a tattoo, according to one person who was present. After going around the room, no one answered in the affirmative. Except for Mr. Marin. When asked about the incident, he said he did not remember it, but he did not deny the existence of the ink. "That's personal," he said when asked what and where his tattoo is. "But hey, when you ride motorcycles for 46 years, what do you expect."
It was in his first sit-down with Warren Spector, the other co-president who ran Bear along with baronial CEO Jimmy Cayne, that Mr. Marin hatched the plan for 10 in 10. The idea was to ramp up BSAM's share of the company business tenfold by 2010, a nearly impossible task, yet one he almost achieved. "We had a great 47 months," Mr. Marin said. "We were actually ahead, at about 6 percent, when all was said and done."
When all was said and done, there would be no more Bear Stearns.
A pair of BSAM's most successful hedge funds were run by Ralph Cioffi, one of the firm's top traders, and Matthew Tannin. The funds traded in the kinds of exotic assets Mr. Marin and Bear Stearns were experts in, collateralized debt obligations. When the housing market on which these bundles of mortgages were based seized up, the funds tanked and Bear Stearns had to spend $3.2 billion bailing them out, the second-largest intervention in Wall Street history (though it would pale in comparison to what was coming).
When asked about these events, and how Mr. Marin comported himself, Mr. Schwartz was insistent. "I do not want to talk about that," he said from his car Tuesday morning, on the way to a meeting. "If you want to talk about the ferris wheel and Rich, great. Every article doesn't have to be dredging up what happened at Bear Stearns. Rich is a good guy, a creative guy, a good business man. I don't want to reminisce about what happened at that time. It's frankly a disservice to drag it back up."
Two years before the BSAM crisis, Mr. Marin began keeping his Whim of Iron blog. It is unlikely its revelation, three months after his division began to unravel in April, led directly to Mr. Marin's downfall at Bear—that was inevitable—but it didn't help. "Nothing mattered to Bear more than its image," Mr. Marin said, "and there was no hesitation to throw someone under the bus if they thought it might slow things down." Mr. Marin agreed to stay on with Bear Stearns for six more months after stepping down as the head of BSAM. He found an empty office on the lower floor. "I put myself in the corner," Mr. Marin said.
He said those six months were the low point of his life. "I take my fiduciary duty very seriously," he said. "To me, it is a sacred trust. To watch my clients, my colleagues and my firm go under was devastating."
Messrs. Cioffi and Tannin were eventually prosecuted by the government, the largest case so far brought against any bankers following the financial collapse. They were exonerated, an effort in which Mr. Marin played a small role, testifying on my behalf. "I would have testified for the government if they would have called me, but they didn't," he said. "You know why, because these guys didn't do anything wrong, they were just doing their job, and that is what I said on the stand." He has since served as an expert witness in numerous such cases, something he sees as his way of giving back and healing the system. He is also extremely proud of the fact, even occasionally bragging to others when the subject comes up, that he has never once been implicated in any wrongdoing throughout his career.
"There were two small things after everything happened on my record, and they were immediately expunged by FINRA," he said with a beaming smile (FINRA is the big independent securities regulator). "They even gave me a letter saying I had done nothing wrong, and my attorney, he said, 'Rich, that's a very special thing you've got in your hands there.'"
After everything that happened, guys like Ralph Cioffi and Alan Schwartz (as well as numerous colleagues who did not wish to go on the record) still cannot speak highly enough of Mr. Marin. "Rich Marin is how do you say a Mensch," Mr. Cioffi wrote in an email. "He was one of the nicest warmest individuals I ever worked with. Smart business man had big visions, a quick wit and quick mind. Just a wonderful man."