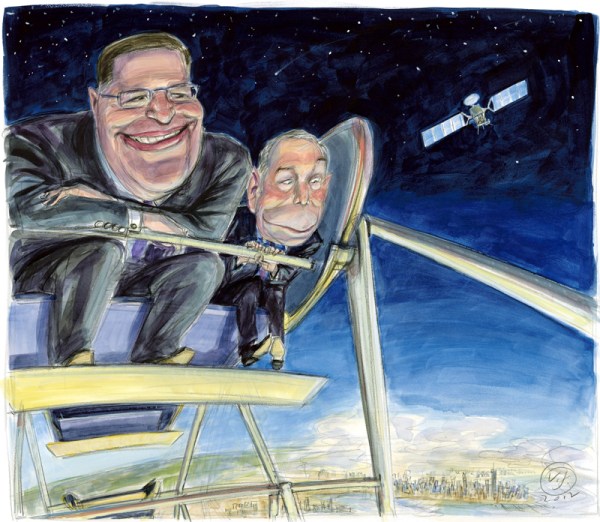 Rich Marin is big. For more than three decades, he dominated Wall Street, creating some of the industry's most exotic investments, making billions for his clients, and millions for himself. One of his minions blew a hole in the side of Bankers Trust, a firm Mr. Marin helped transform into a derivatives powerhouse, and still he held on for the ride, becoming the youngest managing director ever at the bank. It all came crashing down five years ago, when the hedge funds he oversaw at Bear Stearns imploded. The rest of the world followed within the year. But there was Mr. Marin, standing amid the wreckage, helping rescue an overzealous Israeli diamond magnate who had plowed $3 billion into prime U.S. real estate just as the frothing market froze over. He rescued the firm, only to be unceremoniously fired two years to the day after he joined.
Now Rich Marin wants to build the world's largest ferris wheel—in Staten Island, naturally—and the mayor just gave him his blessing.
Did we mention he is big? At the announcement of the project last Thursday, Mr. Marin absolutely dwarfed Mayor Bloomberg and Senator Chuck Schumer, along with the other dignitaries gathered at the ferry terminal. But despite his imposing size—he stands 6-foot-5 and is built like an offensive lineman—Mr. Marin is probably one of the gentlest people on the Street. Were he a real bear, rather than having worked for one, Mr. Marin would be not a grizzly but a teddy. This may help explain his turbulent career.
It is said that no one of any import on Wall Street goes by their given name. Nobody calls Ace Greenberg "Allen." Nobody calls Dick Fuld "Richard." Nobody calls Jimmy Cayne "James." On the trading floors and in the boardrooms, it was never Richard Marin. It was always Big Rich.
"There were a lot of characters on the street," said one former rival who now teaches alongside Mr. Marin at Cornell's Johnson School of Management. "Very few were as big as Big Rich."
And yet nobody outside of Wall Street would probably have ever heard of him if it were not for a June 28, 2007, story on the front page of the Times's business section. In his personal time—what little of it remained after long days at Bear Stearns—Mr. Marin ran a blog called Whim of Iron (subtitled: "impulsive ramblings from a motorcycling alpha dog"). It was a mix of notes to friends, ruminations on life in banking, travel writing and a catalogue of Mr. Marin's weight-loss efforts. But most of all, it was home to his movie reviews. Cinema had been a passion since Mr. Marin was a high schooler in Rome.
As The Times recounted it, on June 17 of that year, Bear was scrambling to bail out two hedge funds that two of Mr. Marin's traders ran, one of the key plot twists in the demise of the firm. "In the midst of the turmoil," wrote Julie Creswell, "Richard Marin, the head of the Bear unit that ran the troubled funds, 'stole away' from the 'crisis-hedge-fund-salvation-workaholic weekend' to see the new Kevin Costner thriller Mr. Brooks. His advice on the film? Take a 'pass,' Mr. Marin wrote in a review he posted that day on his blog."
He was out of a job two days after the story ran.
Big Rich Marin has the personality to match his outsized name and reputation, though little of the ego one often associates with bankers and other Wall Street types. "If the worst thing I ever do in my life is go to the movies, I think I'm O.K. with that," he said over lunch Saturday at Battery Gardens.
He lives in the same 1,600-square-foot penthouse in the South Street Seaport that he bought for $1.35 million in January 2004, seven months after he joined Bear Stearns as CEO of its asset management division. A motorcycle fanatic (a habit also picked up in Italy), he recently "broke down" as he put it, and bought a Vespa. Used. "It makes getting around town so great, it's easier than the subway," he said. If you see a stout guy in a navy blazer wedged onto a silver scooter zip by on the streets of Lower Manhattan, it is probably Rich Marin. At a lunch, he jokingly asked that we not mention it if he dribbled any of the bolognese he had ordered on his nice pink-and-purple tattersall shirt. (So we won't.)
His plan, then, to build a 625-foot ferris wheel next to the Staten Island Ferry is not some Spruce Goose, Master of the Universe complex acting itself out in New York Harbor. It's just business. He got a call, many calls, actually, within days of again being fired, on December 10, 2010, from Africa Israel USA, the real estate firm he had helped rescue after the bubble burst. One was from a small investment outfit that had tried repeatedly to get a giant observation wheel built in New York, most recently on Governors Island or in the Seaport. "They wanted someone with experience, and I had been a CEO in numerous capacities, I knew real estate, I knew finance, they thought I could get the job done," Mr. Marin said.
And so he has. In less than two years, Mr. Marin lined up financial backers to realize the $250 million project while convincing the city to embrace the idea—not much of a challenge, really, given the Bloomberg administration's flamboyant streak, along with its anxious rivalry with London, where the first modern observation wheel opened in 1999. If it opens on New Year's Eve 2015, as is currently the plan, the New York Wheel could help cement tourism downtown and usher in a new era for sleepy Staten Island.
It will also be the latest triumph for Big Rich, whose career has seen a number of breathtaking ups and downs of its own in recent years. The big question is not whether he can get this thing done, as he almost certainly can, but whether he can stay on top long enough to enjoy his success.