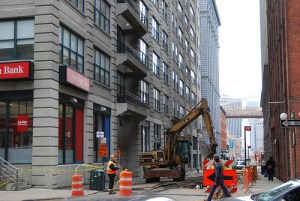 Remember shovel ready projects? Thought they were so 2009? Well, you'd be wrong, at least here in New York, where Mayor Bloomberg, Council Speaker Christine Quinn and the ever financially creative City Comptroller John Liu have done some juggling with the city's capital construction program to fast track $1 billion worth of infrastructure work. These projects will begin in the coming months, rather than in the coming years. Let's hear it for putting people to work.
This marks the finalization of the city's four-year Capital Commitment Plan. The plan—which originally called for $2 billion in accelerated investment but who's counting—was conceived in May to boost New York's global competitiveness by increasing capital investment in the city's aging infrastructure while taking advantage of historically low interest rates. It's what comptrollers like to call a win-win.
"Tough economic times demand creative solutions like this Capital Acceleration Plan," Comptroller Liu said. "Put simply, this plan will deliver a much-needed shot in the arm to our city's economy. Creating good jobs, accelerating infrastructure improvements and realizing long-term cost savings are a winning trifecta for our city's taxpayers."
The authorized projects include some 300 miles worth of road and bridge repairs, waterfront infrastructure improvements, and $175 million to invest in schools and libraries. Mayor Bloomberg believes these capital investments will help New York continue to maintain its spot as de-facto Capital of the World.
"Throughout our Administration, during good economic times and bad, one thing has remained constant—we've continued to invest in New York City's future," Mayor Bloomberg said. "Efforts like this one are what make city government effective and are yet another example of how, in contrast to places like Washington where people from opposing parties or ideas cannot get anything accomplished, here in New York City, we can work together to what is right for our city." Oh snap.
The plan is a welcome boost to the city's construction sector, which has seen a decline of nearly 20,000 jobs over the last four years. By expediting the start of some of these proposed projects, the city hopes to take advantage low construction costs saving, more than $200 million over the life of the bonds. It is expected to create an estimated 8,000 jobs.
The construction industry is already eager for the work to begin. "The Building and Construction Trades Council applauds today's announcement regarding the Capital Acceleration Plan," Robert Barletta said in a release. "It's a creative way to keep our economy growing by putting construction workers and others to work while rebuilding our critical infrastructure."
From underground parks to entirely new neighborhoods, Mayor Bloomberg and, as such, New York City really is all about the creative thinking these days. But pulling $1 billion in new financing from the ether is a neat trick that's going to be hard to top. Like Jay Z said, "When your boy reach a billion it's a wrap."