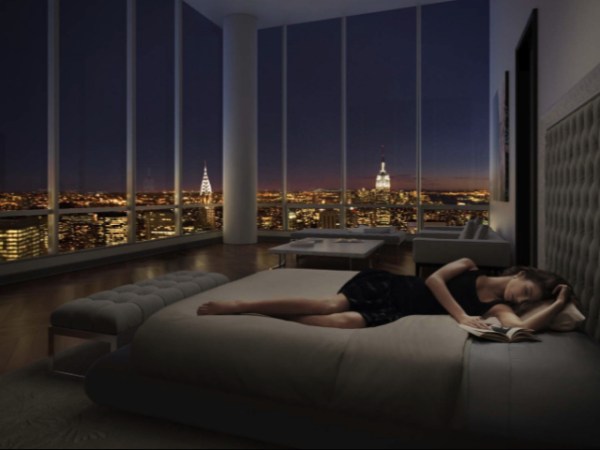 Talk about money burning a hole in your pocket. Millionaires and billionaires apparently have quite a conflagration in their pants when it comes to One57, that shining spire rising in the sky. The still-being-built building, which has done more than $1 billion in sales, apparently racked up $300 million just this summer, according to The New York Post. Which is basically the equivalent of a penthouse (the priciest is in contract for more than $90 million) and three or four lesser units (say a few $17 million spreads on lower floors).
Although, if you want a full-floor unit, you'll have to act fast (to put it in the parlance of the Home Shopping Network), with "just a few remaining" of the 11 full-floor units, director of sales Dan Tubb told the Post, which credits the pace of sales at the under-construction building to visualization aids, among them a splashy video (very Home Shopping Network).
The video, which The Observer has (sadly!) not seen, is said to show the glassy tower being formed out of water. Because it's awesome. And could you ever imagine any of those limestone behemoths that line the park rising out of a nonexistent lake? We thought not. They are of the earth, and One57 is of other elements—air and—who knew?—water. There's also a beautiful woman in an evening gown (the same woman we have seen staring meditatively out the penthouse windows in so many architectural renderings?) who paces around her beautiful apartment, takes the elevator down 90 stories and gets into a black sedan.
Still, we doubt that the video or Mr. Tubb's affable and persuasive manner (although he is no doubt both affable and persuasive) has all that much to do with moving the building's monstrously expensive units. How many high-rollers, after all, come strolling through the sales center? Billionaires need a place to stash some cash. But certainly, helping buyers visualize the apartments that they're dropping not-so-small fortunes on is helpful. Gary Barnett is apparently generous with the rides on his construction elevator.
In any event, the message is clear: don't be a Johnny Come Lately billionaire, or you might get stuck with a five-bedroom on the 40th floor.
kvelsey@observer.com