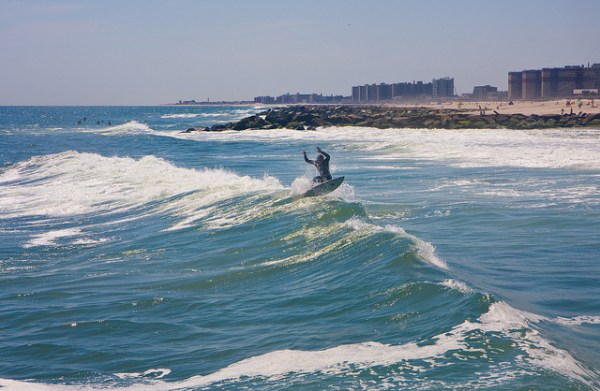 So the mayor announced at today's Frankenstorm briefing that school is, for now, still in session come Monday, as is work for all government employees. Talk about a bummer. But as a precaution, parks will be closing early, at 5 p.m. Sunday, and events will be over by 2 p.m. Double bummer.
Oh, and the beaches are now closed, so don't even think about going surfing, dude.
"Let me say something again and again and again—the beaches are dangerous and surfing is extremely dangerous. No surfing, please, tomorrow," Mayor Bloomberg stressed, perhaps his most emphatic pronouncement during his 20 minute presser.
It's not you that the mayor is worried about—knowing Mayor Bloomberg, who will suffer no fools, you'd be welcome to risk your life—but the people he would be forced to send back in after you.
"You may want to run the risk, but if we have to send our emergency workers into the ocean to save you, their lives are at risk, and you just don't have a right to do that to somebody else," the mayor said.
He is even hip and with it, and knows surfing is the cool new deal, but so was smoking in bars and trans fats, and the mayor wasn't having any of that, either.
"So please, tomorrow, I know the surfing looks attractive, and there's more surfing done around here than ever before, but this is just much too dangerous a storm," Mayor Bloomberg concluded. "For a small amount of pleasure, you life could be in danger, but certainly the emergency workers will be in danger."
Update 10/28, 11:50:Mayor Bloomberg, doing his best Roy Scheider impression, yet again reiterated his call for surfers to stay out of the water during his Sunday storm briefing.
"Everybody is trying to protect themselves, and I think a storm surge is life threatening, but if you take precautions, it's not going to threaten your life," the mayor said. "One of the things we're worried about is young kids going out and surfing. You just can't do that. If you do that, your putting the life of the people who are going to have to save your life or try to save your life, their lives are at risk, as well."