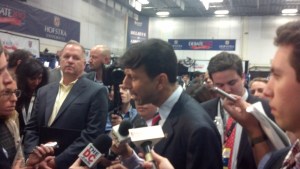 HEMPSTEAD, N.Y. — Like many prominent politicians in the United States right now, Louisiana Governor Bobby Jindal is on the floor of the media filing room at Hofstra University, making the pitch for his side before the two presidential candidates go head-to-head tonight. For Mr. Jindal, a Republican, that also meant mocking President Barack Obama's widely-panned performance in the first debate.
"I almost feel sorry for the president," Mr. Jindal said."Because the reality is I don't care if you have the oratory skills of Winston Churchill, Presidents Reagan and Lincoln combined, he still wouldn't be able to defend his record."
Mr. Jindal went on to predict former Governor Mitt Romney will do "very, very well tonight," especially in contrast with Mr. Obama's failures.
"It's no surprise that he's promising more of the same," he said of the incumbent president. "He can't run on his record, he can't run of his policies. So he's trying to promise more things to the American people that we simply can't afford. The reality is, at the end of the day, I think Governor Romney is going to do very, very well tonight because he will be able to speak directly to the American people and not be distracted by these distortions.  The president only does well in the polls when he spends millions of dollars on ads distorting the governor's record."
A second point was also offered up by Mr. Jindal for what voters are going to be seeing during tonight's verbal bout.
"The president is going to make up all kinds of things of Governor Romney's record because he can't run on his record," he offered, emphasizing the familiar "no record" theme.