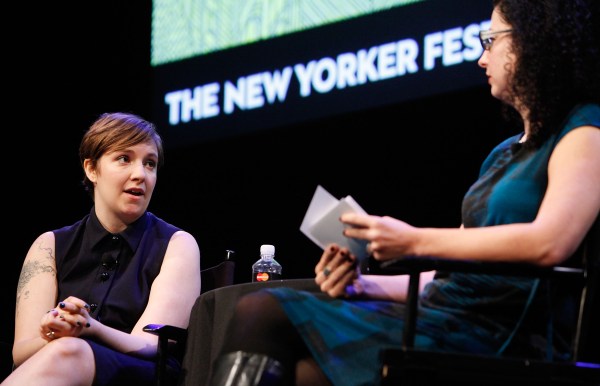 The hot ticket of this year's New Yorker festival was a chat between Girls auteur Lena Dunham and New Yorker TV critic Emily Nussbaum. The 90-minute talk sold out long before events featuring lit stars Salman Rushdie, Zadie Smith and Martin Amis. When the conversation was opened up to the audience, fans stretched 20-deep up the two aisles.
One young woman complained that Girls didn't completely capture her life. A self-described Shoshanna—the show's insecure NYU student—excitedly wanted to tell Ms. Dunham about her new boyfriend. Another young woman, asking on behalf of her friends, wanted to know more about the generation that she insisted Ms. Dunham is a spokesperson for.
Nobody asked or especially seemed to care about Lena Dunham's big news: that over the weekend, publishing houses were fighting over her new book, in a bidding war that wound up fetching $3.7 million.
Not That Kind of Girl is part memoir, part advice tome and the hottest literary property since Amanda Knox's tell-all, which went to HarperCollins for $4 million last February. Ms. Dunham's agent, Kim Witherspoon at Inkwell, invited incredulity when she opened bids last week at $1 million, but they shot up from there. Sarah Crichton, publisher of an eponymous imprint at Farrar, Straus and Giroux (and editor of We Killed by Yael Kohen and A Long Way Gone by Ishmael Beah) made it to $2 million before dropping out, leaving HarperCollins's Ecco imprint and Random House to duke it out, according to sources.
On Monday morning, Random House Publishing Group announced that executive editor Andy Ward had won the prize.
"You don't see proposals like hers very often," Mr. Ward, a former GQ editor, said in a statement issued by the publisher. "Lena is so smart, so insightful, so funny, and so dedicated as a writer—dedicated in the best possible way. What more can you ask for as an editor?"
To spend that kind of fortune, Mr. Ward's bosses at Random House must have a great deal of faith in their star wrangler, best known for the teary memo GQ editor in chief Jim Nelson sent out upon his departure from the magazine. That, and for editing The Secret Race, a recent timely title about the doping scandal in bike racing by Tyler Hamilton and Daniel Coyle.
BONUS:  The Lena Dunham Book Proposal—Reviewed!
To put Random House's gamble in perspective, consider that an average first-time author is lucky to get $10,000, and $50,000 is considered a big deal. Her millions put Ms. Dunham firmly in the "can you believe that" clique, which includes Sarah Palin ($1.5 million author advance), Sarah Silverman ($2.5 million), Keith Richards ($7.7 million) and Hillary Clinton ($8 million).
"I'm obviously writing the wrong kind of books," New Yorker editor in chief David Remnick joked when we asked him about Ms. Dunham's windfall.
Lena Dunham was already having a big year, as the star, writer and showrunner of the HBO indie hit Girls. Hyped as "the voice of her generation" (or, as her character Hannah Horvath says, "a voice of a generation"), the 26-year-old Oberlin grad became a contributor to The New Yorker, bought an apartment in Brooklyn Heights, got five Emmy nominations and appeared on a billboard in Times Square. All this while being worshipped then lambasted then defended again in an endless back-and-forth in bars,  magazines and tweets. But is all that worth the price Little Random is paying?
According to publishing sources, the book would need to sell more than half a million copies between hardcover, paperback and ebook in order to be profitable for Random House, assuming an average cover price of $28. That would put it roughly in the same bracket as hits David Mitchell's Cloud Atlas and Oprah's revamped book club pick Wild by Cheryl Strayed.
In other words, expect to see more billboards. "With that kind of advance," said Rob Spillman, the editor of Tin House magazine, "they are going to have to market the crap out of it."
Little Random is positioning Not That Kind of Girl as Helen Gurley Brown meets David Sedaris and Nora Ephron, but it's actually Tina Fey whom they should look to for sales comps.
The 30 Rock creator made headlines in 2008 when Little, Brown gave her a $5 million advance to write Bossypants. Although many at the time questioned that sum for a comic memoir, it was a book with a happy ending, selling 525,000 copies in hardcover and 265,000 in paperback, according to Bookscan (which only accounts for between 70 and 80 percent of sales), with ebook sales believed to be on par with the latter. The book topped the The New York Times's bestseller list and stayed on for 23 weeks, a coup worthy of a Liz Lemon self high-five.
But Lena Dunham is no Tina Fey.