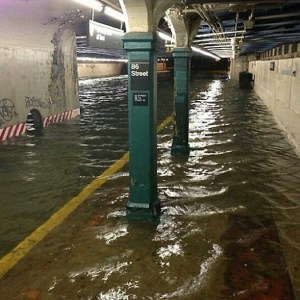 Governor Cuomo just announced that buses will resume service at 5 p.m. today, "a limited resumption of service, which is basically Sunday service." There will be no fares charged on buses today or tomorrow, which the governor called "a little ray of light" as "New Yorkers are struggling to get their lives back in gear."
Mayor Bloomberg said earlier that he hopes subway service can resume in the next three to four days, but with most lines at least partly flooded with seawater, there is no way of knowing. Governor Cuomo put it more starkly. "As for restoration of the subway, this will be a restoration of parts of the system," the governor said.
Bridges, including MTA, Port Authority and DOT, will be reopening today at noon, but the Holland and Brooklyn-Battery/Hugh Carey tunnels will remain closed until further notice due to flooding. The bridges to the Rockaways will remain closed.
"I can be unequivocal in saying the MTA saw a disaster as devastating as it has ever seen in its history," MTA chairman and CEO Joseph Lhota said. He said no buses or subway cars were damaged, "it's all on the lines." And well beyond. One downtown station has water clear up to the ceilings.
He also said buses would be used to augment the subway system where there is no service, presumably in the form of shuttle buses. "We're going to think creatively about helping our customers get to work and get around," Mr. Lhota said.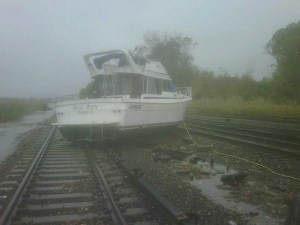 "In terms of Metro North, we have a 40-foot boat across the tracks, so it's those little things that are sometimes causing a problem," Governor Cuomo said, seeming to crack a joke.
He also said there was a serious need to look at redesigning the transit system and other infrastructure to protect against future storms, adding that he told the president that the city is seeing 100-year storms "every two years."
"There  have been a series of extreme weather incidents, that's not a political statement, that's a factual statement," Governor Cuomo said.
"No storm shocks me anymore," he added minutes later.