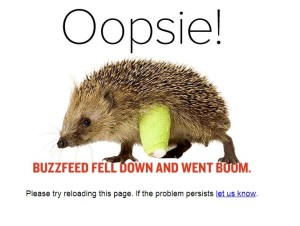 BuzzFeed's website was down for about 20 minutes last night during the presidential debate. If you were relying on its politics vertical for debate coverage, then you may have missed some viral gems.
"Our data center's upstream network providers were having bandwidth and latency issues. We're in the process of putting in place a content delivery network to ensure it doesn't happen again," Ashley McCollum, BuzzFeed's press manager, emailed us this morning.
Thankfully, there is always Twitter for second-by-second debate jokes. And, you know, every other media outlet.