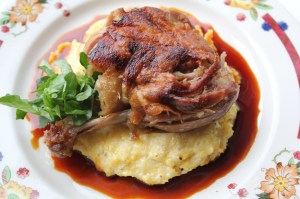 BuzzFeed Food is ready for your viewing pleasure. The new vertical, which launched today, is designed to appeal to people who cook food, eat food and/or like looking at pictures of food.
It's safe to say that they have their bases covered.
As we reported last week, BuzzFeed Food is headed up by  former Bon Appetit editor Emily Fleischaker. Rachel Sanders, former assistant to Bon Appetit's EIC Adam Rapoport, is the vertical's associate editor.
So far, the vertical features useful things like instructional guide's to onion cutting, pictures of food, pictures of beverages and pictures of kitchens and kitchen tools. Oh yes, and videos of cats and mice, eating (word to the wise: turn off the sound before playing on your office computer).
What else? From BuzzFeed's announcement:
On the menu:
-Instructional videos and GIFs on everything from how to chop an onion to how to make seasonal Jell-o shots
-Tips for being the coolest party host with the best cocktails
-How to prep for the holidays (without losing your mind)
-A mixture of classic cooking techniques mixed with mind-blowing hacks
-Time and money saving tips for the frugal chef
-Appreciation for your favorite foods (hamburgers) and maybe your not-so-favorite (brains!)
-Frequently updated content sure to make your eyes happy and your stomach grumble.
We would be hungry, but we are busy feasting with our eyes.