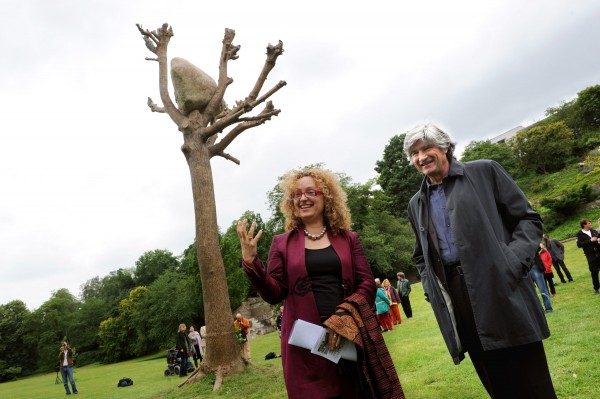 LAST MONDAY EVENING, the most important person in the art world was giving a lecture at the Soho pâtisserie Ceci-Cela. Carolyn Christov-Bakargiev, a sprightly, voluble 54-year-old with a halo of blond corkscrew curls, hadn't informed Ceci-Cela, and the waitstaff didn't seem especially happy about her being there. About twenty people had packed into the pâtisserie's tiny back room, leaving little space for new patrons to sit down. On the plus side, most people were ordering coffee and cakes. One man, apparently not there for Ms. Christov-Bakargiev's talk on topics like wealth and time, stormed out.
And a waiter walked in, looking more bewildered than angry. "What exactly," he asked, "is going on?"
"I was just having a talk with these people," Ms. Christov-Bakargiev said, good-naturedly.
"Yeah, that's great—"
"Is it illegal?"
"It's not illegal, but I just spoke with the manager, and it's hard to accommodate this many people."
"If they all order coffee, we're allowed to talk, right?"
"The talking isn't an issue. It's just coordinating an event without us knowing."
"It's not an event."
CECI-CELA didn't know it was dealing with the art world's most important person. But then, as of last Monday evening, no one did. Her official entry in the No. 1 slot on London-based ArtReview magazine's "Power 100" list—a hotly anticipated annual ranking of the international art world's machers—didn't hit the internet until three days later. And when the list did come out, it raised eyebrows. Sure, she'd curated the 2012 edition of the quinquennial exhibition Documenta in Kassel, Germany, possibly art's most vaunted festival, but that opened in June and closed in September. Did she really deserve to beat out art mogul Larry Gagosian, who just this month opened his 12th gallery, practically on the tarmac of a Paris airport that serves private jets?
"I was, on the one hand, pleased," Ms. Christov-Bakargiev told The Observer. She noted that she is the first woman to top the ranking. "On the other hand, I thought it was funny because I usually associate that list and that hierarchy with a more market-oriented universe than the one that I'm in."
The universe she is in is Europe's jet-setting curatorial world. (Literally: she took The Observer's call in Rome, where her flight from New York had landed earlier that day.) A former curator at MoMA PS1, she began in the early 2000s as curator at the Castello di Rivoli in Turin, Italy, then became its director. She's organized a number of heavy-duty exhibitions, including the 2008 Sydney Biennial. But Documenta, the quintessential European event, is the feather in her cap. In Europe, as American critic Peter Schjeldahl wrote in his review of Documenta 7 in 1982, "curators … are not kingmakers but kings," and summer 2012 marked the reign of Carolyn.
"Recent Documentas have tended to be so underwhelming that they have propelled their directors off rather than up the list after opening," ArtReview's editor, Mark Rappolt, said over e-mail. "I think the legacy of this show will be much longer-lasting, regardless of what [she] does next." The scale of her Documenta was beyond grand. Ms. Christov-Bakargiev spent more than three years preparing the show—"a wildly ambitious and in many ways outrageous exhibition," Daniel Birnbaum, a curator who's organized grand shows of his own, dubbed it in a largely favorable review in Artforum.
Then again, it is, well, over. "I'm the most powerless person in the world right now," Ms. Christov-Bakargiev observed from Rome. Maybe, she said, the fact that she came in at No. 1 says more about the art world than it does about her. "I think it probably does indicate a sense of slight bankruptcy in a universe of ideas around the association of art, social status and financial power," she said. Then again, shrugging it off could be attributable to an allergic reaction. "I'm a little allergic to the word power," she said. "I like the words potentiality and potential and possibility, which are all coming from the same etymology."
She also happens to be a little bit allergic to the word curator—"You curate pork to make prosciutto," she's said. Kassel, site of Documenta since its beginnings in 1955, wasn't big enough to contain her. Assisted by an army of "agents," she organized a Documenta that included conferences and exhibitions in Kabul, Cairo and Banff, Canada, with projects from around 300 participants, including not just artists but also physicists, anthropologists, poets and even a gardener. More than 100 pamphlets were produced, not to mention an iPhone app and numerous videos. As for the Kassel component, she built it, and the art world came: her Documenta stretched across more than a dozen venues in the city, and received some 860,000 visitors during its 100-day run. It was a stunning exhibition. However sprawling it seemed when you were trying to dash from venue to venue, the actual experience of the artworks was intimate and often poetic. The charges levied against many high-powered curators—heavy-handedness, narcissism—was nowhere in evidence. Individual artworks had room to breathe.