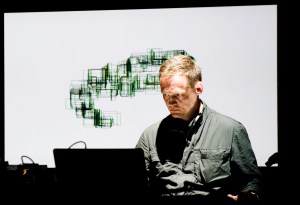 The very luck students of the Staedelschule art academy in Frankfurt, Germany, will have the opportunity to have artist and musician Carsten Nicolai as one of their guest professors this coming winter semester. The news in the form of an e-mail from e-flux's Art&Education service.
Details from the news release:
[Mr.] Nicolai and his students will investigate the musical and physical-tactile conditions of sound in the lab at Staedelschule. The seminar will develop new insights in production processes and sites such as the sound studio, mastering, film, and sound design. The results of the Studio fuer Ton und Nichtton will be shown in an exhibition at the MMK Museum fuer Moderne Kunst in Frankfurt…
The list of current professors at the Staedelschule is a pretty impressive cast of artists, according to the release. They include  Douglas Gordon, Judith Hopf, Michael Krebber, Tobias Rehberger and Simon Starling.