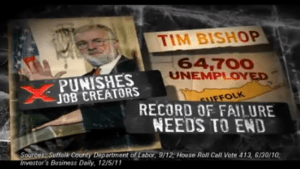 This morning, the U.S. Chamber of Commerce officially set its sights on six congressional races across New York State and launched ads in each of them. Stretching from Long Island to Buffalo, the broadcast barrage attacks Democratic congressional incumbents Tim Bishop, Kathy Hochul, Bill Owens and Louise Slaughter, and attempts to beat back Democratic candidates Sean Patrick Maloney and Dan Maffei.
The size of the ad buy wasn't immediately available, but the Chamber launched a significant $3.3 million campaign for California Republicans last week, so their New York  has the potential to be sizable.
The move is the latest sign New York, despite its staunchly blue status in the presidential race, will be a pivotal battleground for control of the U.S. House this November. Republicans gained more seats in the Empire State than anywhere else in the United States during 2010's Tea Party wave, and with a court-drawn redistricting map scrambling the boundaries for incumbents of both parties, plenty of additional outside spending is sure to come.
View the ads below.
Against Long Island Rep. Tim Bishop:
[youtube http://www.youtube.com/watch?v=Imr-6LRWu7c]
Against Western New York Rep. Kathy Hochul:
[youtube http://www.youtube.com/watch?v=D_aov33zq1M]
Against Rochester Rep. Louise Slaughter:
[youtube http://www.youtube.com/watch?v=4yAaR_bIVyk]
Against North Country Rep. Bill Owens:
[youtube http://www.youtube.com/watch?v=WTOFXgB6gjc]
Against Syracuse candidate Dan Maffei:
[youtube http://www.youtube.com/watch?v=x7oZ1zkUdic]
Against Hudson Valley candidate Sean Patrick Maloney:
[youtube http://www.youtube.com/watch?v=8wkdhuwtA-8]