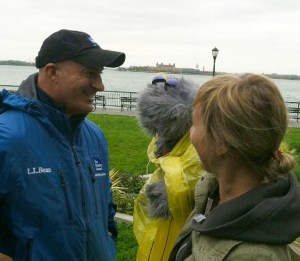 "This is the most nervous I've ever been about a storm," The New York Observer was told by the last man on Earth you'd ever want to hear those words from. "There's just too much uncertainty."
To illustrate that he's not being hyperbolic, he said that this was also the first time he had ever brought a dry suit on a job, mentioning that if we were to follow him the next day, we should be very aware of the possibility of contracting hypothermia and the potential loss of some digits.
Not to mention the flying debris. "I wish I had brought a helmet," the man said. He is not joking.
It was Sunday evening, and according to The Weather Channel's Jim Cantore–who is known by several unreassuring nicknames like "The Hurricane King," "Dr. Doom," and (personal favorite) "King of the Thundersnow"–it was time to start getting scared. Battery Park was practically deserted after a mandatory closing of the grounds–apocalyptically called "Zone A"–and park rangers had kicked the last of the stragglers out in preparation for Hurricane Sandy. There were about eight of us left near the waterfront by 9 p.m: The New York Observer, Nick Heil of Outside Magazine and a five-person film crew from TWC. We were all there as disciples of Mr. Cantore, even if we were breaking every single one of his warnings by being in his vicinity and not far away, indoors and out of the Zone.
Mr. Cantore is the meteorological equivalent of that hospital cat that lies on the bed of old people right before they die. An older gentleman came up to the Vermont native during a segment break. "I'm a huge fan of yours," the man said. "But god, I wish you weren't here."
"I get that a lot," Mr. Cantore told us, a little sadly. In his blue windbreaker and baseball cap, the 48-year-old looks like an amalgamation of every high school in the country's football coach. "We actually used to have a spot on The Weather Channel making fun of the whole 'Dr. Doom' thing. I would go into a coffee shop, and everyone would run out. I'd go buy a boogie board, and the owner's dog would just start barking at me. I'd go lie on a beach, and everyone's head would just swivel, and the next shot the whole beach was making a mass exodus."
Mr. Cantore's reputation is well-earned. He is always at the worst place at the worst time, on purpose. It's been his one duty since he graduated college and began working at The Weather Channel during the network's early days. He's covered Ike, Gustav, Katrina, Isabel, Rita, Andrew, Floyd, Mitch, Bonnie, Irene and now Sandy. And thanks to a TWC partnership with NBC and its affiliates, it would be difficult for Mr. Cantore not to appear on your TV screen at some point in your life. (You might have even seen him subbing in for Al Roker on "Today," but for the potentially devastating Sandy, NBC had called all hands on deck and positioned seven correspondents up and down the coast. This includes Mr. Roker, who was in New Jersey.)
A more friendly interaction occured around 2 p.m., when Mike Park, who works in business development for Twitter, stopped by with his wife Allison Pickard, carrying a giant bag seemingly filled with gray and blue fur.
"We're weather geeks," Mr. Park admitted to us, as if we had any idea that such a subculture existed. (Though by the end of the day, we'd be hearing all about these types of people, many of whom make up the 100,000+ Twitter followers Mr. Cantore already has.)
"I'm going to try to get your tweets sponsored for the hurricane, so you'll appear on top of the Sandy hashtag," he promised. Ms. Pickard asked Mr. Cantore to take a picture with Twitter's weather puppet. She pulled "Carl Mudgeon" out of her bag, and the three excitedly posed with their hero, who removed his ubiquitous cap. We hadn't ever thought about it before either way, but we were momentarily confused when Mr. Cantore turned out to be totally bald.
Later, a woman from the nearby Liberty Court high rises appeared and started chatting with TWC's publicist, Maureen Marshall. "I know they told us to leave the building, but I'm staying," she proudly announced. " After 9/11 and Irene, I have evacuation fatigue."
Mr. Cantore shook his head when we relayed this example of New York gumption to him. "What you can't do, and what it took me a few hurricanes to learn you can't do, is you can't tell people what to do. You can give them the best information possible, to try to convince them, but there will always be someone who thinks they can overpower the weather."
He added that since last year's Irene wasn't as devastating as it could have been, people have become complacent. This extends to his feelings toward Mayor Bloomberg, who he said received "bad information" Saturday, causing him not to issue the evacuation orders. Mr. Cantore grimly jokes about such things, but he's truly worried about the mayor's decision to hold off clearing out Zone A. The segment's freelance producer, Kip Grosenick , was more vocal in his criticism.
"This is a total mess," he grumbled at 3 p.m., when the entire crew was forced to break and relocate as their hotels (and in one case, a home) was evacuated out of the Zone. "During Irene, the city had its shit together. Now it's like we're being forced to scramble."
And this would be the worst possible storm to scramble in. We kept overhearing snippets of Mr. Cantore's segments, talking about waist-deep water by this time Monday, winds that could go as high as 90 mph, and the kicker (according to the portender of doom): a "crippling snowfall."
"Ten million people will go without power here," he said. "That's one in every six people."
Reassembled later in the evening, Mr. Cantore went as far as to read off the now-infamous warning to Zone A residents issued by the National Weather Association during a live segment. "If you are reluctant, think about your loved ones," he quoted somberly. "Think about the emergency responders who will be unable to reach you when you make the panicked phone call to be rescued. Think about the rescue/recovery teams who will rescue you if you are injured—or recover your remains if you do not survive."
Wasn't he worried that this kind of heavy language would inspire panicking in the streets?
"This was a decision by the weather service two years ago," he said. "Just using standard language isn't good enough. But when you start painting a picture, using 'you'-directed language, that's when people finally pay attention."
Mr. Cantore has no problem using strong language to get his point across. Not four-letter words—who needs to deal with an FCC fine in a middle of a hurricane?—but more traumatizing terms like "surges," "devastation," "flash floods" and "unprecedented." Even when being technical, he still sounds ominous, like when he told us that we are looking at potentially the lowest pressure system to ever hit the city, which could lead to flooding with waves "11.7 above mean lower low water."
We had officially been terrified enough for one evening. How about some good news while we all packed up and made our way to the various hotels we'd been assigned (three of us still in Zone A)? Was there a chance Sandy would bypass us completely?
"Absolutely not," said Dr. Doom assuredly. "That would be almost impossible."
We found a small amount of comfort after 10 hours of this end-of-days prediction, remembering Jim Cantore's oft-repeated mantra: "No one likes to be wrong more than me."