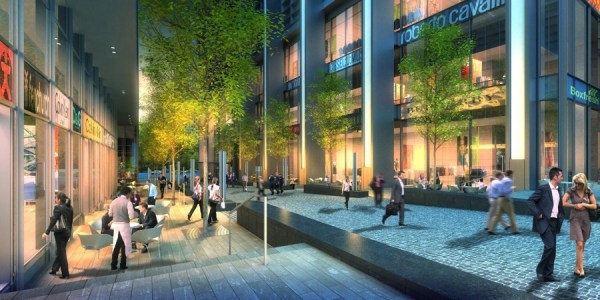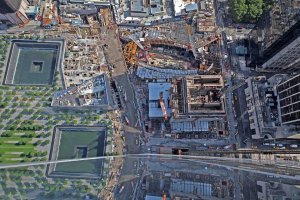 Until the towers fell, no one particularly loved the World Trade Center. It served as a useful landmark but was otherwise too big, too empty, too cold. Well, except for the underground shopping center, which was one the busiest in the country. Numerous brands had their top-grossing stores at the World Trade Center.
Today, retail may be the least obvious part of the redevelopment of Ground Zero, as the memorial bustles with people, the museum awaits completion and two of the four new towers have already taken their place on the skyline. But shopping will still be an important part of the new World Trade Center, just as it was with the old one.
Today, the Port Authority moved closer to realizing every shopaholic's dream (and really, how many New Yorkers aren't shopaholics?) by authorizing construction for Cortlandt Way. An above-ground shopping concourse running along between Towers 3 and 4 where Cortlandt Street would be if it continued onto the site, it will serve as an anchor for the retail throughout the site, including the below-ground portions between and within the towers. The new shops are also seen as a catalyst for retail development throughout Lower Manhattan.
"Cortlandt Way will be a world-class shopping destination for residents of the local neighborhoods and for the millions of visitors who come to the World Trade Center site each year," Port Authority executive director Pat Foye said in a statement. "It will continue the ongoing restoration of Lower Manhattan's street life by providing a unique shopping experience in one of the most well-known locations in the world."
When complete, the project will offer 16,000 square feet of new retail space along Cortlandt Way as well as on parallel Church and Greenwich Streets. It will be operated by Westfield, the Australian-based mall giant that won a contract from the Port for the lucrative retail spaces throughout the site.
Tower 4 is nearing completion, but the future of Tower 3 remains uncertain as Larry Silverstein still looks for an anchor tenant for the building. As The Commercial Observer recently reported, GroupM is looking at a large enough block of space to get the tower going, but if not, the show must go on.
But because of the complex, interconnected nature of the World Trade Center site, features like the new PATH station and the mall rely on mechanical systems in Towers 2 and 3 to become operational. That is why Mr. Silverstein has promised to build Tower 2 up to street level and Tower 3 up to eight stories. Otherwise, it would hobble the entire site.
Still, it is good to know that with the construction of Cortlandt Way, the so-called stumps will not be barren as some had feared, assuming nothing is built above them. They will be something much greater—that most New York of institutions, the humble store.