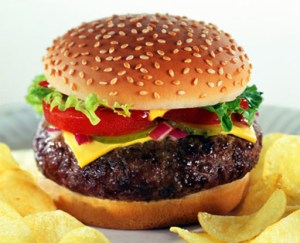 Chasing hurricanes is hard work. Luckily, on Cropsey Avenue, just one block south of the Shore Parkway, sits Parkview Diner. It's one of those 1950s throwbacks, all neon and chrome, that exist across this city, serving up hearty dishes—rain or shine. The weather was not an insignificant detail to Gus, the owner, as he took orders for delivery over the phone.  Because today, The Parkview, was one of the only diners still taking orders anywhere inside Coney Island, Zone A –the evacuation zone.
"We're short-handed today," said Gus, a tall, broad-shouldered guy who looked excited by the fact.  "I like the challenge. It's been busy, busy. All day long. All the emergency personnel, you know?"
Around us, I counted at least five staff working the front of the house. Then there was Gus himself, of course, plus whoever else was working the grills in the back. Still a pretty good turnout during a hurricane, right?
"It's okay. It's okay. They…" but Gus never had time to finish the thought. The phone is ringing again with another order. Three hamburgers, well done, with bacon, cheese and fried onions. It's a cop order, one that will be picked up.
"Five minutes," said Gus.
"The cops were in here in the morning, busting my balls. Telling me, 'Gus, You gotta close. You gotta close.'" Gus likes to punctuate his sentences with staccato repetition. He hadn't stood still since I walked in, always watching the door, the windows. Outside a squad car pulled up, the two policemen pushing their shoulders against the car doors, against the wind, as they stepped out. "I told the cops," said Gus, "If I go home, where are you going to eat?"
The argument must have worked. Because outside, the signs of Sandy's increasing strength were everywhere. The rain had started to come across the avenue outside in sheets, picking up debris as it moved, pushing up toward the Parkway. Threatening to become just another piece of debris was The Parkview's own sign, fixed at the top of a 30-foot steel mast twisting in the wind.
"We're in the Zone here," said Norma with a laugh. She was one of the waitresses who managed to make it in, but she, like Gus, had been looking out the windows. "I hope Gus will let us go home soon. He'll drive us home if he has to. But when I see the sign start to move, I go home."
Norma took a call in Spanish and gave Gus some bad news. One of the busboys wouldn't be able to make in tonight. He was on his bike.
"Why?" said Gus. A question that Norma only shrugged off, gesturing outside the windows.
"Nobody has a work ethic, that's why," he said.
When another waitresses hedged over the phone about how late the diner will be open, it was Gus who yelled from the back, "Tell them we're open to five. Always tell them five."
I asked Gus if he was at all worried about the storm.
"I'm not worried. This energizes me. I love it," he said. "I mean, I worry about my employees. I want to make sure they get home safe. But I like it like this. I'm an adventurer."
He wasn't the only one.  Earlier, I'd seen two men with surfboards jump into the water near the Seagate properties just west of Coney Island.  They were chasing a tight left-hand break that was crashing off of a granite jetty, all of which looked just suicidally dangerous to me. And in the Rockaways, too, I met numerous people waiting to meet the storm head-on, including the residents of New Gloria's Manor and Home, one of the area's numerous shorefront assisted-living facilities.  I asked one man sitting outside, a man who chose not to identify himself, for his reaction to the evacuations.
"I never heard [the evacuation order]," he said. "I don't think it will be that bad.  Just a little rain.  The water won't come over the boardwalk. Not like in the '80s when it was water clear across, from the bay to the shore. That was bad."
Run to the supermarket. Run to the hills. But for some of us, it would appear, this storm is just another adventure to be faced head-on. Personally, I was happy to pay the $3.25 toll to get back across the The Gil Hodges-Marine Parkway Bridge and back into Brooklyn proper, which is how I found myself at the Parkview Diner with a delicious cheeseburger deluxe in front of me.
I thanked Norma for the meal and shook Gus's hand. I asked him if he would be open tomorrow.
"Absolutely. Absolutely. Even if nobody makes it in, I'll be here," said Gus.
On my way out, I heard Norma telling him that she wasn't sure she'd be able to make it in. She wants to see how bad the storm is first.
Gus had barely finished bagging up the policemen's order, just rushed out of the kitchen, before he was answering her, "No. No, Norma. I need you here. It's busy, busy." He interrupted himself as I opened the door. "Stay safe out there," he yelled.
You too, Gus. You too.