[Oct. 31, 12:45 p.m.] For ongoing coverage of fallout from the storm, please visit Gallerist's liveblog, right over here.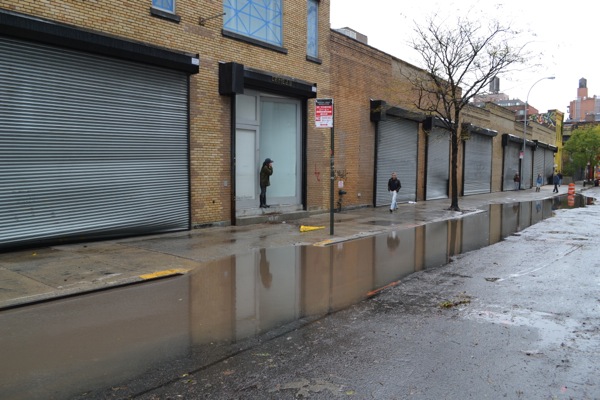 [3:30 p.m.] Here's a little bit of good news from Steven Henry, the director of Paula Cooper Gallery on West 21st (where there was a gas leak scare earlier today): "Gallery is essentially fine.  There was about 3 feet of water that flooded the ground floor, but that had receded of course.  We had moved the art works up to the 2nd floor, so it's just basically clean up for us."
[2:00 p.m.] Dealer Zach Feuer sends along these photos from his gallery. "Loose con Ed transformers and doors warped shut are keeping us from seeing the back rooms and storage," he writes.
[1:15 p.m.] Residents of Chelsea can be seen leaving darkened buildings all over the neighborhood with large suitcases. There are murmurs from firefighters and Con Ed employees that power won't be back on until Saturday, though right now there's no way to be sure.
[1:00 p.m.] The firefighters have left the West 21st block after inspecting a gas leak, and Con Edison employees are cleaning up and clearing out as well.
[12:30 p.m.] At Leo Koenig on West 23rd Street, the water had risen to about two and a half feet. The gallery had sealed its doors to about two feet. They're between installations right now, so there wasn't a lot of work near the front of the gallery, though its next show will probably not open on schedule this Thursday.
[12:20 p.m.] Around noon, briefly, the sun came out and went away again.
On West 24th Street, outside Andrea Rosen's new gallery, close to 11th Avenue, an employee was sweeping out about a foot of water from the space. She said that some work had been damaged, but at the gallery's other, larger location, down the block closer to 10th Avenue, water had risen to three and a half feet inside. The gallery's planned "Cellblock I and II" exhibition is scheduled to open on Friday at both spaces. Asked if that was still set to happen, the employee said, "I don't know."
Outside David Zwirner Gallery on 19th Street, a group of four men had attached a new chain to the warped steel gate in front of the gallery and were trying to raise it. When that didn't work, they started hitting it with a sledgehammer to straighten it out. When they were finally able to lift the gate two feet off the ground, the darkened room inside was covered in mud and debris.
[12:10 p.m.] West 21st Street, between 10th and 11th Avenues is underwater right now, after being clear earlier in the day. Electricity remains out throughout the neighborhood. Firefighters are in front of Gagosian investigating a gas leak. Sediment residue on the gallery's glass entrance shows that water had risen to almost four feet. Inside there was debris and a partially installed Henry Moore exhibition.
[12:00 p.m.] The streets of West Chelsea were quiet this morning around 9:30 a.m., with gallery employees just starting to show up to survey the damage wrought by Hurricane Sandy. People in the neighborhood reported that, last night, water had flooded over to about 10th Avenue on many of the blocks with art galleries, from West 19th Street, where David Zwirner has a row of galleries, up to at least to 24th Street, which is home to Luhring Augustine, Andrea Rosen and Barbara Gladstone.
Construction sites in the area were flooded, and steel roller shutters at some galleries had been pushed in, presumably because of water pressure from the flooding. There are reports of flooding and damage at some galleries, including Pavel Zoubok Gallery on 23rd and Gagosian's 21st Street branch, which saw about two feet of water. We're confirming various reports in the neighborhood right now, and will have updates in the coming hours.