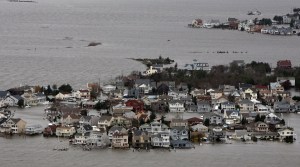 EWING – Gov. Chris Christie says areas along the state's coast may never look the same to some New Jersey residents.
The governor held an evening news conference Tuesday after surveying the coast hours earlier, which he described as being completely devastated by Hurricane Sandy.
"I've just never thought I'd see what I saw today – ever," Christie said, explaining that the boardwalk in Belmar he walked on just a few months ago has disappeared.
"It's gone," he said. "It's not there."
The superstorm knocked out power to 2.6 million utility customers in the state and killed six New Jersey residents, Christie said. State offices will be closed for a third day in a row Wednesday and about 387,000 residents are under advisories to boil water.
The governor asked that anyone on the roads tomorrow take caution, saying many of the state's 15,500 traffic signals could be out.
The evening news conference was a somber one, as Christie described his tour of the state.
"It was an overwhelming afternoon for me emotionally," Christie said. "We'll rebuild it, … but for those who are my age it won't be the same."
The governor is expected to meet with President Barack Obama Wednesday and tour additional areas that were hit hard by Hurricane Sandy.
Christie expects to host another news briefing sometime after meeting with the president.