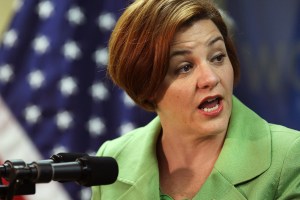 In the aftermath of Hurricane Sandy, there have been mounting reports and rumors of people taking advantage of the chaos and power outages created by the storm to loot abandoned buildings. City Council Speaker Christine Quinn wants these criminals to face exceptionally harsh punishment. Politicker saw Ms. Quinn in Coney Island today as she spoke to reporters after surveying the damage. Ms. Quinn said people need to "do the right thing" and should face very tough consequences if they don't.
"They really shouldn't prey on their neighbors in these worst of times and anyone who is caught looting during this storm should have the book thrown at them in a way that is extreme," Ms. Quinn said.
Ms. Quinn went on to detail the specific penalties she thinks looters should suffer.
"I would quite frankly say, you know, don't even give them bail. Make them sit inside until the storm is totally gone and the power is over. That'll teach you a lesson the next time the power goes out, because this is serious."