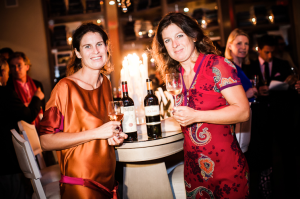 "Don't stop eating," joked Nicolo Maltini, the U.S. Ambassador for Antinori, as we were leaning full bore into an excess of food, wine and family on a regular basis, without trying too hard—the kind you find in Tuscany, Italian households through the city and its suburbs, or Olive Garden.
Quite frankly, we'd like to know how the prestigious winery—now in its twenty-sixth generation, tracing back to 1385—has escaped alcoholism/obesity and the dysfunction that we assume would accompany it.
"Italian culture is to have wine with our food at our home," explained Allegra Antinori, who deals primarily with the hospitality side of the family business. Through the pop up Cantinetta Antinori at the Mondrian Soho Hotel, "guests can understand better our lifestyle"—which is to say a real booze buffet.
What you'd expect for $160 per head.
A likely crowd of guests from the wine world indulged in Tignanello 2001 (Antinori is famous for its red wines), including Michael Yurch, President of Sherry-Lehman. Mr Yurch explained how his job went beyond supplying wines to the palates of New York, like the time he provided a live goat to a Sheikh after successfully sourcing a rare bottle of Chateau Margaux for him.
Wine wills the weirdest things.
It was therefore somewhat grounding when Allegra's sister, Alessia Antinori, spoke about the "family culture and philosophy" related to this great produce and to Cantinetta Antinori, "a little restaurant where people came to sample products from the countryside," that originated, and still exists, in Florence.
It has expanded since then though with concessions in Vienna, Zurich and Moscow. The pop up event is the first time it touches down on American soil.
The first time, also, for Chef Lorenzo di Martino. "This is the possibility to breathe Antinori," he explained, "everything we cook has a meaning—represents a moment in history."
With the help of  Kim Wiss, from the Antica Estate in Napa Valley, the pair hope that, for the price tag, guests will experience Italian history in the form of "really simple, fresh, original recipes" that represent authentic Tuscan food, and some of the finest Italian wines, amongst mini olive trees and candle light.
Teetotals and dieters need not apply.