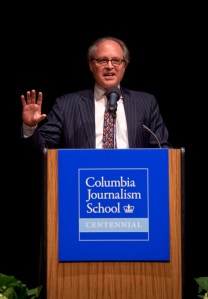 Columbia Journalism School Dean Nicholas Lemann announced he is leaving his post via email this morning. Deanships come in five year increments. Mr. Lemann is stepping down after his second term. He will return to Columbia after taking a sabbatical, during which he plans to work on an a book (he hasn't decided on the topic) and contribute to The New Yorker, where he is a staff writer. In a phone conversation with the Observer between meetings this afternoon, Mr. Lemann said he's looking forward to the time off.
"I entered the workforce three days after graduating from college and I've been working ever since," he said.
Though Mr. Lemann only made the official announcement about his departure this morning, the news leaked out last night in a  Bloomberg News report. Apparently, word of the dean's potential departure began to make its way around the j-school prior to the Bloomberg story.
"Rumors began to circulate yesterday. But even with a building full of journalists, nobody could confirm it," said Columbia Professor Michael Shapiro.
Mr. Shapiro confirmed the news when he read the Bloomberg story, but he doesn't know who the news outlets' source was.
"They obviously didn't get it from me," he said.
Though news of his exit generated substantial interest from news outlets and his colleagues, Mr. Lemann pointed out that the news isn't exactly shocking since media businesses and universities operate very differently.
"It's a bit of what we call a dog bites man story in journalism," said Mr. Lemann, who went on to explain that, although someone might stay in a powerful role indefinitely in a news organization, the same is not true in the academic world. "An institution is not set up to function when one person stays in leadership positions for years and years."
Columbia University President Lee Bollinger will lead the search for a new dean–another way that academia differs from the professional news business, where Mr. Lemann noted, a departing editor is usually expected to help chose and groom a successor.