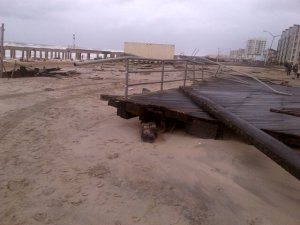 Breezy Point, on the tip of the Rockaway Peninsula, was among the most devastated neighborhoods in New York City in the aftermath of Hurricane Sandy. Indeed, floods and fires left the area reminiscent of a war zone.
The fires also claimed the homes of Congressman Bob Turner and State Conservative Party Chairman Mike Long, Crain's Insider reported. Fortunately, Mr. Turner's office told the publication that the congressman and his wife made it out safely. Mr. Long is safe-and-sound too.
A number of other elected officials have also suffered storm damage, but nowhere near what Mr. Turner and Mr. Long endured. A tree fell onto Councilman Brad Lander's house, for example, as well as on his colleague James Sanders' car.
Mr. Sanders, who represents the hard-hit Far Rockaway neighborhood adjacent to Breezy Point, announced in the middle of an interview with the Queens Times Ledger, "A tree has fallen on my wife's car." Asked whether he regretted staying in his flooded neighborhood, Mr. Sanders replied, "I expected this and worse. I regret not moving my wife's car."
Update (2:29 p.m.): Mr. Turner provided the following statement:
"My thoughts and prayers are with all of my fellow New Yorkers and the many others who are experiencing loss as a result of Hurricane Sandy. Last night's storm showed once again that the professionalism and bravery of our first responders is second to none. I want to commend the men and women who put their lives on the line everyday in order to keep others safe.

Times like these create tremendous obstacles. However, by working together we will ensure that the power is restored and our neighborhoods are rebuilt. I will be working with FEMA and other officials in the coming days to ensure that residents have access to the assistance they need. I would encourage people to go to my website or Facebook page to find information on how to contact emergency services.

I, along with many other Breezy Point residents, lost our homes last night and I am grateful that my family and I are safe after this destructive storm. I hope you will join me in lending a hand to those who were less fortunate and keep everyone impacted by this storm in your thoughts and prayers."