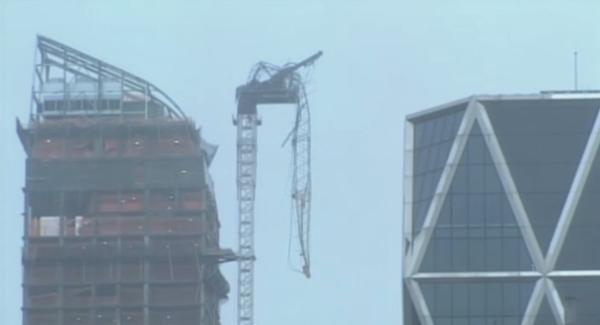 Sometime this afternoon, the boom of a crane atop One57 snapped back and now hangs precariously from the cab of the crane. So far nothing has fallen from the structure.
"Can't talk now but we don't know anything yet," Gary Barnett, developer of One57, just told The Observer in a brief phone interview. "We're doing everything we can, and hopefully no one is going to get hurt."
The 90-story residential tower reaches 1,005 feet, and it will be the tallest apartment building in the hemisphere when it opens next year. It has made headlines for attracting a number of billionaire buyers, one of whom paid more than $90 million for the penthouse, the most ever paid for a home in the city.
The emergency responders are on the scene, evacuating nearby buildings. Carnegie Tower and the Metropolitan Tower, luxury condos directly across 57th Street, are of considerable concern. The city's NotifyNYC Twitter service has directed all occupants of buildings on West 57th Street between 6th and 7th Avenue to "immediately move to the lower floors of your building" and has also advised "citizens should avoid the area."
The city shut down construction sites on 5 p.m. and the Department of Buildings worked with developers and construction managers to secure their sites, but there is no accounting for what are reportedly 100 mile per hour gusts atop the Manhattan skyline.
NY1 reports that more than 100 firefighters are on the scene.
There is almost no way for the crane to be stabilized during the storm, as that would necessitate mounting an additional crane to rescue it. Putting more people in harm's way is also a serious concern and it appears securing the area would be a safer option than trying to secure the boom.
This post has been updated with new information, and will continue to be.