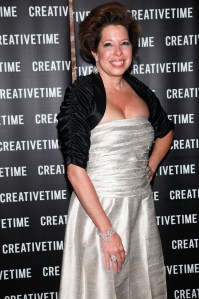 It's Friday. It's pretty cool outside in New York, and a little bit rainy. Maybe you want to space out at work for a few hours. Here's one option: go to Creative Time's website and stream its annual summit, which is going on right now at New York University. Artists, intellectuals and various other people will be delivering short lectures throughout the day.
Some highlights: Creative Time's director, Anne Pasternak, will present her organization's Leonore Annenberg Prize for Art and Social Change at 2:30 p.m. Slavoj Žižek will offer a 20–minute keynote lecture at 3:35 p.m. Carolyn Christov-Bakargiev, artistic director of Documenta 13, will speak sometime between 3:55 and 5:05 p.m. It's a pretty impressive lineup of speakers. Here's the schedule. Festivities will continue tomorrow at 11 a.m.
Here's the link to the impressively large and crisp stream.
In other Creative Time news, the public-art group just launched a new website called Creative Time Reports. Details on that here.