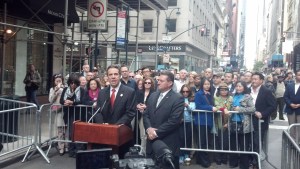 Governor Andrew Cuomo has had an infamously frosty relationship with the New York State Senate Democratic Caucus, but things may be starting to turn around a tad.
Almost exactly a month ago, Mr. Cuomo issued a small string of endorsements to three incumbent Senate Democrats, but all of them were in heavily Democratic districts where the outcomes would not affect the overall partisan makeup of the legislative body. This morning, however, Mr. Cuomo went in a different direction and endorsed an endangered incumbent, Senator Joe Addabbo, before a crowd of Columbus Day parade-goers on 5th Avenue.
"He has done great work, we've had a very productive past two years," Mr. Cuomo said, giving Mr. Addabbo props before declaring him to be a legislator of "conscience" and "political courage."
Mr. Addabbo occupies one of only two seats the Senate Republicans are offensively targeting statewide. His eastern Queens district was heavily gerrymandered to make it lean more towards the right. With a Siena College poll released today showing a neck-and-neck race between Mr. Addabo and his GOP challenger, Councilman Eric Ulrich, the Republican conference looks likely to spend a million dollars on the race by the time voters head to the polls on November 6th. So, the support of Mr. Cuomo, who has stratospheric approval ratings, it no small matter here.
Of course, the politics surrounding the governor's signature gay marriage legislation also factored into today's endorsement. Mr. Cuomo, widely thought to be considering a 2016 campaign for the White House as a Democrat, already offered his endorsement to a Republican Senator who flipped his vote on 2011's gay marriage legislation, which Mr. Addabbo had also done.
"The reason the state government has made progress is in part due to very difficult but correct votes that the Legislature has taken," Mr. Cuomo explained. "We passed a vote for marriage equality, which was right but was a difficult vote. But now a number of elected officials are in difficult races I believe in part because of the votes they took, and they took those votes in part because I was urging them to do it for the good of the state."
"Political courage, which is what Senator Joe Addabbo exhibited, should be encouraged, not be discouraged," he added.