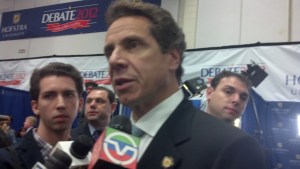 Though Governor Andrew Cuomo was in the audience at tonight's debate, he was not on the official list of Democratic surrogates passed out by President Barack Obama's re-election campaign. Indeed, his office told Politicker a few hours before the debate the governor was not set to make an appearance in the post-debate "spin alley." Nevertheless, Mr. Cuomo wandered in some time after the proceedings began.
"The president clearly won tonight," he declared, later adding President Barack Obama's performance was "masterful."
"As someone who supports the president, I was very, very pleased," Mr. Cuomo explained.
We asked Mr. Cuomo what motivated his unofficial visit to the media filing room floor, given his lack of formal surrogate status.
"I didn't know you had to sign up for an official surrogate," he answered.
We joked that official surrogates get tall signs to mark their presence in the crowd that were visible behind all of the other Democrats officially representing the Obama campaign.
"Yeah, I didn't sign up for a sign," he responded.
Reporters began to shift the discussion to other topics as the governor paused for several seconds, but Mr. Cuomo was still stuck on the last one.
"I've been in the spin room many times, I don't think I've ever had a sign, as a matter of fact," he mused, staring at another surrogate's sign in front of him. "I wonder if that means something?"
Mr. Cuomo, who is widely thought to be eyeing a potential campaign for the White House himself in 2016, was also asked if he saw himself on that debate stage in four years.
"I see myself doing the best job I can as governor, that I can see," he succinctly answered.